I am open to selling or trading all the below bottles. For Trade, if you have something to trade, make me an offer and we will use EITHER the lowest value we can find for both yours and mine (probably Ebay) or the highest value we can find on the net for both to be as fair as possible. We can work out actual shipping, since the larger bottles weigh more than mini bottles.
I am looking for: Vintage bottles of Christian Dior, Chanel 22, anything pre-1960 with perfume, Lalique, older and unique mini's. The houses I like best (but are not limited to) Guerlain, Creed, Dior, Chanel, Coty, small Pupa's, Thierry Mugler, Dali, figural type bottles of any brand. I am willing to consider all offers, just be reasonable, I am not trading a 1920 atomizer for a $4 mini .
If you have any questions, email me at: helen@zensoaps.com or helenae@bellsouth.net
Click HERE to go to my Perfume Trade/Sale Page.
Click HERE to go to my Perfume Miniatures Trade/Sale Bottle Page
Click HERE to go to my Personal Perfume Collection Page
_________________________________________________________________
Vintage Gres Cabochard
This bottle is in flawless condition, complete with flawless box. It is the 1/2 oz size, with the crystal top.
The box measures approx 3" tall x 2.5" wide.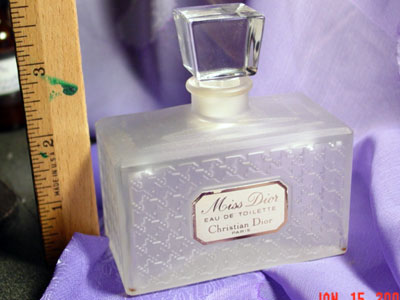 Vintage Crystal topped Dior Miss Dior
This flawless Miss Dior bottle has all its labels both paper and bottom.
There is a slight scratch on the top and side of the gold edge of the labels. No chips or cracks in the glass.
It is the 100ml size (3.4oz) EDT, if you look at the ruler, this is a very large bottle. I believe this dates between the 1950s and 1970s.
Vintage 1970's Coco Chanel - Large 2oz bottle (SOLD)
This bottle is flawless, with every single label intact. The top of course is crystal. No cracks or chips anywhere.
This is the 50ml sized bottle (1.7 oz) and is 3" tall x 2.5" wide.
Vintage Lalique Worth Je Reviens
Embossed Lalique on the bottom of the bottle, this is the 2 oz size.
The contents are original, and roughly 40%, but I believe there IS some alcohol addition to the original, it is too liquid. The smell is unadulterated, even if diluted.
The top has small dings on them, someone tried to force the bottle open with pliers. It is only visible on one side, but must be noted.
Vintage Coty Chypre EDT 1.7 fl oz
This is a completely full bottle of Coty Chypre. One of the most coveted perfumes in existence.
This bottle was from a reissue by Coty in the 1960s-1970's. It has again been discontinued, so intact perfume is very rare, let alone a completely full bottle.
It is non-refillable, so clearly not tampered with in any way. Completely flawless, includes the original box, with a few scratches on the top of the box from age.
I want an arm and a couple of legs for this bottle.
Vintage Coty Paris - Original 1940's box and bottle (ad not included) (SOLD)
The ad on the left is the original 1940s ad.
The perfume pictured on the bottom right is the exact box and bottle below.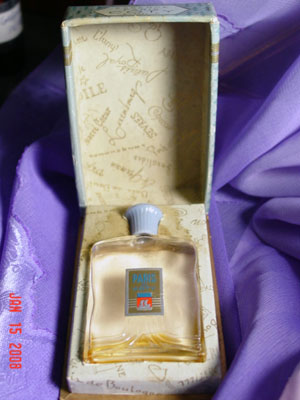 The box is MINT outside. There is no damage, except for some spillage inside from the perfume laying down and 68 years of storage.
The amazing part is, you can still smell the original perfume. A full whiff of 1940's Paris the moment you open the box. There is residue in the bottle as well. The scent is beyond belief lovely.
This is a very rare treasure.
The box is 3" x 2 1/4" and the bottle appears to be a 1/2 oz size.
There is beautiful embossing on all the details of the outside box. No one makes boxes like this anymore.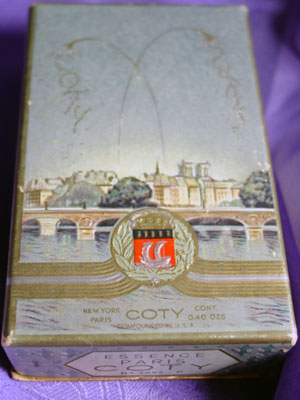 Vintage 1950s Coty Paris - Purse Bottle
This is a VERY heavy glass art deco purse bottle. I am guessing 1950s, but not sure. The glass is 'oily' as typical of lalique signature bottles, but I do not know if this is a lalique.
The glass is embossed, not simply etched, with the unique decorations.
The gold metal in the top and bottom is very heavy, not like modern cheap aluminum perfume caps.
There is a bit of residual Paris Perfume in the bottom of the container. It is roughly 3" tall x 1" wide. I'm guessing 1/4 oz size.
Vintage Chinese Cloisonne Bottle
I don't know the age of this, but guessing it's from the 1960s. Most bottles of this type are 'snuff bottles' with the small spoon. As you can see, there is a dauber, with no spoon. It's round and definitely meant for liquid.
The bottle is 3" tall. It is in perfect condition, and a great example of enamelware over copper.
This particular bottle has the raised wiring in the 'cells' so you can see the workmanship. It's beautiful.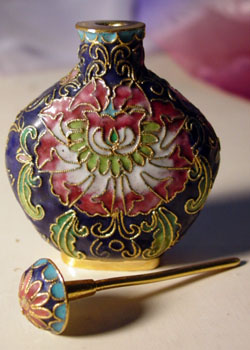 Vintage Faberge Woodhue Refillable Rollon
This was one of the classic and best known scents of Faberge. It was first released in 1944.
The case unscrews to reveal a refillable glass bottle inside that says Faberge Woodhue.
It is difficult to tell the age of this bottle, but I would say it's old. The metal is very sturdy and unlike metals used today, so my best guess is from the 1950s.
It is 4" tall x 1/2" wide
Vintage Dunhill "Dice" Cologne Bottle
There is no more content, but the bottle is adorable and unique. It is a large 'dice' and first came out in 1934. The bottle is a large 3" x 3" square of heavy glass with a bakelite top.
This scent is considered the best perfume release of 1934 by many, a classic. Per one reviewer on Basenotes, "nothing about this fragrance could be improved, not by the million new scent molecules developed in the last decades".
Judging by where I got it, the age of this should be from the 1950s or earlier.
Classic Shalimar 1oz bottle
This is the classic Shalimar bottle. It is NOT marked Baccarat (many aren't anyway), but does not have matching baccarat numbers either.
The top has a sliver of glass missing in the back, which does not affect the display.
The label has a corner missing as you can see. Otherwise, the bottle is in great shape.
It is NOT full. What you see is OIL I added for the photo. There is no perfume at all in the bottle.
Hanorah Hanorable
I have no clue how old this bottle is. It's claim to fame is it's beautiful, clearly a rare brand, and made in heavy leaded crystal glass, with a crystal top.
It is in perfect condition, though there is no perfume residue.
The bottle is 3 1/2" tall x 2" wide and originally held 50ml (1.7 oz) of perfume.
1940's Vintage Goldfish Bottle - Depression Glass (SOLD)
Not only made in the USA, it has a patented design. The bottle originally contained "Soiree Scent O Cologne" made by the Theron Co of Fifth Ave in NYC. The bottle design was Patented by Alfred A. Flaster in 1942.
With stopper in, it stands 6" tall and 4" wide. It's HUGE. No chips or cracks at all.
The entire bottle has a raised embossed sea decoration, which you can feel when holding it. It's a 3 dimensional ball.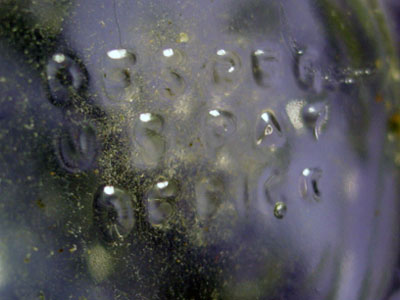 This is no reproduction, it is the original Depression bottle, as shown in several perfume bottle collection books, including on page 193 of Perfume, Cologne & Scent Bottles by Rebecca North.
The bottom of the bottle is embossed with: DES REC. US Pat Office.
There was at one time a cork outside the glass top, but has deteriorated with age.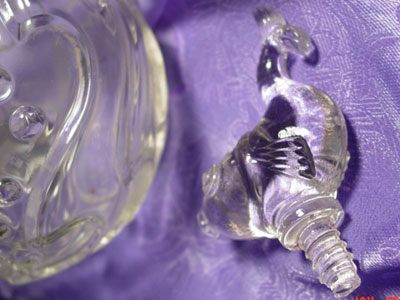 You can stick another cork in if you intend to use it rather than display. The top as you can see in this photo, can easily have the cork replaced, and as the ends are threaded, the cork will stay easily.
I'm only trading this adorable bottle because I bought a PAIR of them, so I still have another one:).
1940's Dorsay Intoxication
This is a famous and beautiful bottle. The top is crystal and ground glass. The original string and label are still attached. This bottle is also seen in a lot of perfume collectible books.
Intoxication came out in 1938. This is another very famous perfume for its time. There is perfume residue, so you can smell what the original Dorsay Intoxication is like, just beautiful and supposedly reminscent of Coty's original L'Aimant.
This appears to be a 1oz size, it's hard to gauge due to the tapering, the bottle is 4" tall and 2 1/2" across the base.
It does not appear to be a molded bottle, it looks hand blown and cut.
1940's Lander's Chypre?
This is clearly a VERY old bottle, as it is a cork (like the depression goldfish above), with the same general molding lines and style of depression glass.
The reason I think it's Lander's Chypre, is because the identical raised embossed daisy pattern was seen on a small purse sized glass and gold perfume container from the 1940s.
I have never ever seen this bottle before in any book or reference, so it must be rare.
The bottle is a large 5" tall x 3" wide, and just beautiful and unique. No chips, scratches, damage.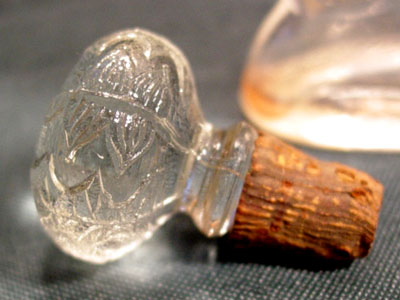 The cork is clearly very old and shriveled up. It's almost fossilized... it's rock hard, but original.
The entire bottle is original in every detail.
1950s Le Heure Bleu
I am not entirely sure of the dating of this bottle, it's a guess, based on the label printing on the original label. This label is embossed and printed, older bottles tend to be embossed and not printed.
This bottle still has it's original Guerlain ribbon, with medallion wrapped around the neck. It is a huge 4 1/2" tall and 2 3/4" wide. I am guessing it's a 50 ml (1.7oz) size but could be larger.
It is completely perfect, no chips, fleabites, scratches.
I do not think this is a baccarat, as it is not stamped or signed.
Lalique Vintage Mollinard de Mollinard
This bottle is designed by Lalique, and has the typical lalique nudes in a band around the entire bottle. This bottle is the rare frosted version.
It is 3 3/4" tall x 2 3/4" wide. I believe it is the 50 ml size.
The gold top is flawless and also embossed with a matching design.
This bottle is shown in many lalique books as a famous example of Lalique design.
Vintage Joy Black Bottle w/ Red top
3 1/2" x 2" . Vintage 1 oz. Joy bottle from the days when Joy cost $300 an oz (and a car cost $1000:P).
Very solid heavy onyx glass bottle and top. This is a 1950's to 1960's bottle w/ the writing in front worn from age, and the original neck string (by which you can tell that it's old).
The 1980s issued a remake of the original Joy bottle called "Joy de Bain", this is older, it is the original black Joy bottle.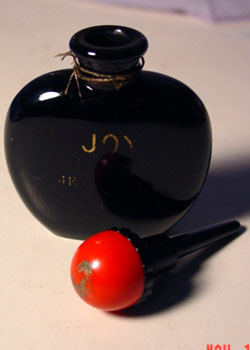 Vintage Schiaparelli Shocking Lotion 1930s.
This is the original Lotion bottle. Everyone has seen the Schiaparelli Shocking domed bottle, this one is far rarer and very unique.
Shocking came out in 1937.
Lotion in this context is not what we think of today, a skin moisturizer. Back then, it was a heavier oil based perfume. This still contains original residue.
The labeling and neck tie are original, and the top appears to be old bakelite.
If you collect Shocking, this is a nice addition that is very hard to find.
Prince Matchabelli Bottles- All or Part
These are rather strange and unique Prince Matchabelli bottles. None are labeled.
The smallest in front is probably the most 'typical' of the Prince Matchabelli mini's, it is 1" at the longest and about 1" tall.
The bigger crown behind it to the right is about 3 1/4" long, and 3" tall.
The one to the left, I'm not sure what it is, but it has an interesting lid and the bottom says "Bottle Made in Canada", with a 'crown' lid that looks like bakelite. It's old looking too.
The Green bottle behind is huge and mysterious. 6" tall x 6" wide, it is definitely in the shape of a Prince Matchabelli crown, but has no threads for a screw on and no grounding for a stopper. The neck is frilled. Yet the shape is too odd for a vase.
I would be willing to sell/trade any or all of these. I have more Prince Matchabelli, these are just the largest or duplicates of what I already have.
Vintage Bell Shaped Bottles
These bottles both date to the 1930s. I believe they are Landers, but I am not sure. Will add more info on them as available.
Vintage Caron Nuit de Noel
(SOLD)
This bottle is about 1/2 full. However, I have tried everything I could think of to get the perfume out, without any luck. It is possible that it was a fatice that was not meant to be opened.
I bought it on the chance that the perfume is intact, and could be removed, making it extremely valuable as these onyx glass bottles are fairly old. No luck, but doesn't mean it's not possible, just that I can't do it.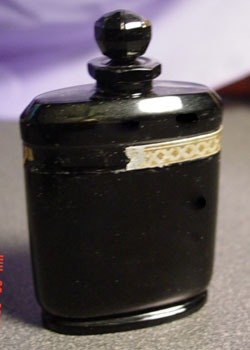 The label is intact, except for a break in the back, but not perfect, it is exactly as shown.
The glass is beautiful and very heavy.
Prince Matchabelli Bath Royale "Verte" 3oz bottle
7 1/2" tall x 2" diameter
Another tall and stately bottle, with a glasslike plastic top (without touching you could not tell it wasn't glass or crystal), and a completely pressed glass body. Original label intact. Excellent, near perfect condition.
This bottle I'm guessing is from the 60's-70's.
Vintage Mother of Pearl Miniature Bottle
This is a very common bottle from the 1950s, and many different perfumes have come in it.
The bottle is a metal wrapped around a molded glass bottle inside.
This particular bottle has a round mother of pearl 'disk' glued over the face. It's a very cute minature at 2" tall.
Vintage Depression Pressed Glass Bottle
This is a very cute and unusual old glass bottle that appears to date from the very early 1900s. The cork is very old and hardened, and original.
Likely a 'dime store' container for perfume.
3 1/2" tall and 2" wide, this cute little bottle is clearly old because while pressed, it's not perfectly symetrical, and reminds me of antique window glass that is 'drippy'.
Vintage Miniature Schiaparelli Shocking
This is a TINY Schiaparelli Shocking that is only 1 1/2" tall. It is filled 3/4 with authentic perfume, and the loss is probably only from evaporation.
I believe it is from the 1950s-1960s. It has no labels, but everyone recognizes this bottle:).
Vintage Porcelain Bottle - Marked Tilso Japan
(Occupied Japan? 1940s?)
This lovely bottle still has it's original sticker marked Handpainted, Tilso Japan on it. See below.
The hand painting is lovely, but the stopper does not fit snugly into the bottle.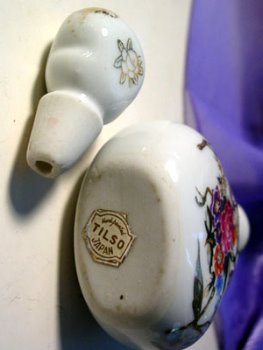 I believe it may originally have had a cork liner that wrapped around the outside of the stopper as many pre-1950's bottles did to securely anchor the stopper into the bottle.
The detail in the painting is gorgeous, and very original.
Vintage Avon 'Spire' Bottles -both the Black and White pair
- 8 1/4" tall and 2" wide at the base. Very tall and stately, and very rare.
- 2 bottle 'set'... they look like the Washington Monument, and are perfect (no scratches, dents, nicks)
The bodies are pressed glass, the black is opaque, the tops are made of a heavy plastic, but on the black one, it looks exactly like the glass.
- The clear one is not yellow around the neck, that's mild discoloration from the perfume and age, these bottles are old.
- The black bottle on the left still has it's gold neck label (says "Tribute"). The clear bottle doesn't have it's label, but still has it's original string.
- Both bottles have their original Avon round label on the bottoms.
- The black one says: "Avon" "Tribute" "Aftershave Lotion", 3 fl oz. Tribute still has 1/4-1/2 of the perfume left, hard to tell because it's opaque and I can't see it... it smells WONDERFUL!
- The white one says: "Avon", "Rapture", "Cologne" 3 fl oz.
These 2 are perfect for your favorite 'his and her' scents, or you can use them for 'day and nite' perfume formulations, after the original is gone (though I'd save the original... it really smells great). If you make perfumes, it would be challenging to match the scent in the black one.
Vintage Unusual Cello Shaped Perfume Bottle
Very Unique looking Cello shaped perfume bottle with handpainted flowers.
The bottle is 6 1/2" tall and would probably hold somewhere between 2-4 oz of perfume.
The top is plastic or bakelight (have not tested), and is VERY tight in the bottle, so I didn't try to yank it out.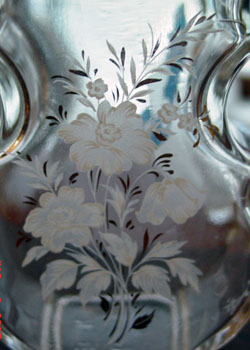 Here is a detail of the hand painting. It looks Victorian to me. I bought this with a group of 1920's- 1940s bottles, so it too is probably from the 20s to the 40s.
A perfect gift for the musical perfumista!
Vintage PAIR of Heavy Pressed Glass Perfume Bottles with Silver Tops
(SOLD)
4" tall x 2 1/2" wide
This pair of bottles has identical bodies, but different silver tops. The tops are VERY heavy, and I don't know if they are sterling silver or something else. The detail on both is spectacular. (in the above picture, somehow the reflection is red. The silver is NOT red, that's just a reflection from a red bottle nearby).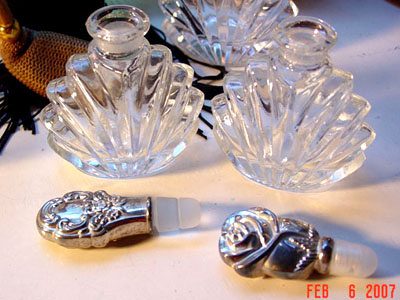 - The bottle on the left is a perfectly ground glass which snugly fits into the perfume bottle. The Rose one on right does not. There is no ground glass on the rose one, someone apparently broke it, and put a plastic cap over the base so that it would fit into the bottle (if you remove the plastic cap, the rose will still sit in the bottle, just a bit loosely).
Besides the one missing ground glass top part (and it's even possible that it never was ground glass there), there is no damage of any kind to either bottle. They are flawless and very unique. Even though they are pressed and not cut glass, they sparkle tremendously, which makes me think they may be lead crystal.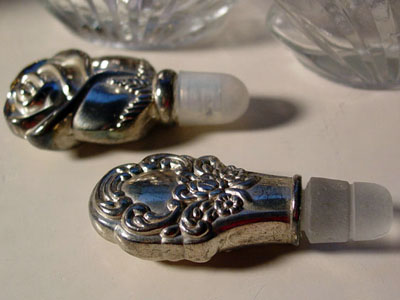 You can see the difference between the tops in the photo below. The one with the ground glass top is in the front, and the rose one with plastic is behind. If someone didn't show it to you, it would be hard to notice visually.
I have not seen tops that weighed this much in newer bottles (more than a Troy oz each). The ground glass top bottle is flawless in every detail.
Vintage Glass Perfume Bottles with glass DAUBERS (SOLD)
These are standard sized bottles, from the 60's or 70's.
Both bottles have daubers, not that common except in the most expensive crystal bottles or older ones.
Perfumers endlessly need nice bottles to put their best creations in for personal use, but can't find many dauber bottles, these are a vintage option.
There is some residue behind the daubers, soaking the tops should get it out if you want to remove it (I like leaving some very old residue from old perfumes in bottles unless I'm actually using the bottle).
Interesting Blown Glass Bottle
I have no idea of the age of this bottle, and the top does NOT seat properly, so it may not be original.
It is just a very pretty and very tall blown glass bottle with a flawless body. Would make a nice decoration for the bath.
The bottle is a large 6" tall.
Atomizers
Vintage Devilbiss Tiny Atomizer 1940's?
This is simply the cutest little atomizer! It is very deco looking, and is signed on the bottom as Devilbiss Made in the USA (the finest name in expensive atomizers from the 1920s through the 1950s)
I guess you can call this one a miniature. I have NEVER seen a Devilbiss like this one!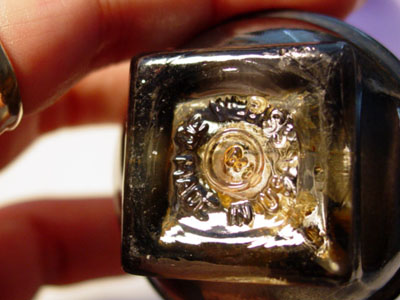 It's like an enamel (or something) coated glass deco ball. I could find no reference to it in any perfume books, so it's unbelievably rare.
This is a shot of the bottom of the atomizer below. There is also still perfume residue. The entire thing is a roughly 2 1/2" ball (not counting the bulb part). It's in excellent condition and very heavy for its small size.
1940's Depression Glass Atomizer (SOLD)
Petite Depression Era pressed glass atomizer. This small atomizer is only 2 1/2" tall. It is perfect in every way, except the rubber bulb is hardened with age.
The bottle is a very cute depression style motif, with no chips, cracks or flaws.
Aqua Colored Depression Era Atomizer w/out bulb (SOLD)
This is another very small and petite molded glass atomizer. It is in the 'style' of czech cut glass but is molded.
The color is lovely, and the bottle is a very small 2 1/2".
As with many collectible atomizers with great age, there is no bulb attached.
Vintage Twist shaped Glass Perfume Atomizer Bottle w/ Unique Bulb (SOLD)
Size: 4 1/2" x 2 1/2"
This is a really unusual looking bottle. The bulb barely squeezes, and there is a crack in the atomizer bulb in the outside end of the bulb, so it cannot be used. Since the ball itself is part of the design, you cannot replace it. It is too hard to squeeze anyway due to the rubber solidifying. This is purely for decoration and not for perfume.
The pressed glass is 'twisted', which itself is really interesting looking, and it's a heavy bottle, sort of like an old coca cola bottle in material.
Vintage Pink Crystal Ball Perfume Atomizer Bottle
This ball is a heavy crystal type. There is no damage, but a few very light cleaning scratches in the crystal clear glass. It is so perfect that it looks like a crystal ball.
This too is old, and the atomizer bulb is hard as a rock. It may also be a Devilbliss, it is very heavy and feels high quality.
The bottom is hand cut and polished. There is an old Caron bottle that is roughly this shape and color, but the atomizer part is different.
Antique Devilbiss atomizer Bottle with gold 'Crackle'
This bottle has a cloth wick, an indicate of age. The gold crackling is really unusual and GORGEOUS. It simply glows.
There is no squeeze bulb on this bottle. This was described in another Ebay listing as a Devilbiss.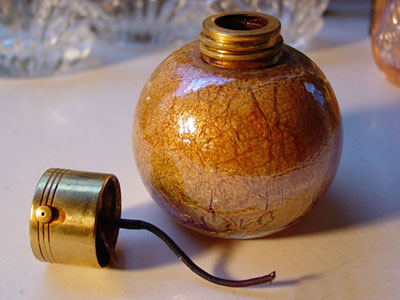 While the gold was already crackled, perfume appears to have seeped into the 'crackle'. This is a really amazing effect. The bottom of the bottle looks like molten lava, it's that vibrant and colorful.
The top is a VERY solid metal, like a bullet shell. I have seen very few bottles with tops heavy. Also, the glass is heavy crystal, not just glass, with real weight to it.
It reminds me of a golden apple.
Depression Glass Salad Cruet
I am not sure the top is original, although it fits reasonably well.
This is a very pretty amber colored molded glass salad bottle that is roughly 5" tall. It's not a bottle, but it's old:).
2 Vintage Black and Gold Chanel #5 Perfume Bakelite Refillable Dresser Spray Bottles
The larger rectangular one on the left is for Chanel #5's Eau de Parfum 1.4 oz spray refill.
The smaller square one in front is for Chanel #5's Eau de Toilette 1.7 oz spray refill.
You used to be able to take them to a Chanel counter for a very discounted refill. I am not sure if they will still do this.
They are a nice upscale touch for a dresser or collectors of vintage Bakelite.
Vintage Nina Ricci Doves and Chanel #5 Perfume Spray Bottles
These are large sized bottles, the L'air du Temp bottle is 6" tall and holds 50 ml or 1.7 oz.
I bought this as L'Air du Temps double crystal doves, but as you can see, it is a spray bottle with plastic doves. Depending on the angle of the photography, you cannot tell this apart from the crystal version at all.
Plastic or not, it is gorgeous and the bottle itself is just as heavy as the crystal flacons. It says Parfums Nina Ricci Paris and Made in France on the bottom.
The Chanel bottle is also immaculate, and is 3 1/2" tall. It has a small white and gold label around the neck with the Chanel logo.
Vintage Guerlain Refillable Spray Atomizer
This is a very vintage collectible refillable Spray bottle for Guerlain. It is marked "Copyright 1968" on the base, with the Guerlain logo at the top.
It held 3 oz of perfume, but is now empty, the original refill bottle is inside and no parts are missing.
You can find this bottle on page 101 of Jane Flanagan's "The Wonderful World of Collecting Perfume Bottles" (copyright 2006) listed as a Shalimar Eau de Toilette Spray. I have seen this bottle used for L' Heure Bleue refills as well.
There are a few small dings to the top, as shown in the photo. There is no visible wear to any of the famous blue and white pattern. It is a tall 6 1/4" and heavy due to the heavy glass refill bottle (which is embossed Bottle Made in France).
Thank You for Looking!
Click HERE to go to my Perfume Trade/Sale Page.
Click HERE to go to my Perfume Miniatures Trade/Sale Bottle Page
Click HERE to go to my Personal Perfume Collection Page
Already Sold/Traded
Art Deco Atomizer
I have no idea of the age or provenance of this deep blue, almost black, atomizer. It is gorgeous tho. The gold lines criss cross across the body of the bottle, and it is very heavy.
The bottle is a very tall 6 1/4" tall to the point of the very unusual atomizer top and 2" wide.
The bulb, tassel and top are in flawless useable condition. There IS some perfume residue inside, but easily cleaned out. It smells like a sexy powdering oriental.
It's a very bold and masculine design, if not for the tassel.
Vintage Marcel Rochas Femme - 1940s
This beautiful bottle was designed by Lalique as a tribute to Mae West in 1944. The shape of the bottle is reputed to be an exact dimensional replica of Mae West's waist and hips.
This perfume was reputed to have been created in the ruins of Paris in 1943, and the scent is a breath of fresh air out of great putrefaction.
The top of the bottle is embossed with Marcel Rochas Paris. The original 1944 fragrance is one of my all time favorites, so I have several bottles. I try to buy them with content, and empty them into another bottle. This is one of my empties. It is a gorgeous fantastic collectible bottle in its own right, with a lot of history, both behind the bottle and the perfume.
Rochas re-released Femme 2x, with reformulations, and neither smells ANYTHING like the old catch your breath original, which was what this bottle contained.
Vintage Lalique Lancome Magie Wand
This bottle is one of lalique's more unusual and coveted designs. It is shown in nearly every perfume book that covers classic lalique bottles.
There is no label.
The 'wand' looks like a frosted wooden stick, with embossed 'stars' on it (for a 'Magie'). The wand is 5" tall x 1/2" wide.
This perfume is arguably the one that put Lancome on the perfume map, and came out in 1950.
Lancome commissioned Lalique to create a bottle that evokes the mood and spirit of a Magie. It is still considered one of the greatest perfumes ever, a true classic. The bottle contains perfume residue, so you can smell the ORIGINAL version of Magie upon opening the bottle.
The perfume has reputedly been rereleased lately due to popular demand.
Vintage Strange Czech Glass Painted Bottle 1930s?
This is the strangest bottle I have ever seen. It seems like it was built to be a representation of every kind of bottle for the time.
The top is a typical classic lalique type top (which if you look at the photo, this is an original petrified cork, and I guesstimate the age to be 1930s based on the fact that corks that look like this generally date from then).
Move down a bit, and the metal neck looks incongruous with the rest of the bottle... but it is all soldered together!
It is stamped Czechslovakia (see image below), something you see in the finest most expensive collectible bottles.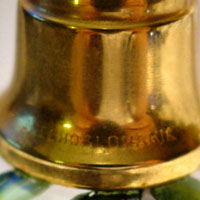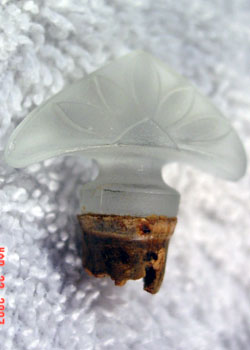 Below this, securely mounted, the glass part is hand painted, with a strange looking, yet artistic 'rough' design. While it's easy to think it was added later... when you look at the black line dividing the bottom from the middle, it appears that the paint was built into the design of it... the bottom is actually yellow glass! It does NOT look like there's background paint on either the clear or the yellow to me.
Again, look at the age of the cork, the authenticity of the czech stamping, the weirdness of the painting and the multiple materials the bottle was made from.
Art Deco gone nuts? An 'art' bottle for every type of famous bottle out there? I have NO idea.
Pink Frosted Perfume Atomizer Bottle, with working bulb
Size: 4" tall x 3" wide
This is a very pretty quilt patterned atomizer with an unusual shape, that has clearly never held perfume.
It is in flawless condition, but it is NOT new, it is also vintage and well made, but probably only 10-20 years.
Perfect to hold a perfume decant for easier application (spray) or for perfumers who like to make their own perfume for spraying, everything works fine, and the bulb squeezes with no problems.
Vintage Porcelain IRICE Perfume Atomizer Bottle
Size: 4" tall x 1 3/4" diameter
This has the complete and flawless silver round, IRICE sticker at the bottom, and I believe it could be another Occupied Japan piece (1946-1951), due to the age of the bulb.
The stickers says: "I.W. Rice & Co. Inc, Made in Japan, An IRice Import"
It has no nicks, scratches or damage of any kind.
The porcelain design of peonies are very delicate and you can see that the gold trim around the bottle was hand applied (due to the unevenness of the line). The atomizer part is in excellent shape with minimal discoloration to the metal.
Beautiful Vintage IRICE Perfume Atomizer Bottle
Size: 3 1/4" tall x 2 1/2" diameter
- Part of Irice sticker still on bottom (not complete sticker)
Occupied Japan was 1946-1951, which is when most Japanese pressed glass pieces made for export were produced (after that, Japan stopped making so many pressed glass pieces and started focusing on other types of products for export).
IRice imported the finest bottles from all over the world, most Czech crystal bottles were Irice bottles. Hobnob was an extremely popular glass style in the 40's, and this is a lovely hobnob pattern on the body, with no mold marks showing (high quality workmanship).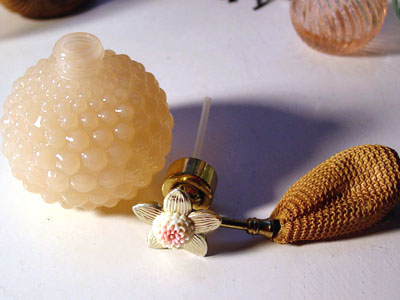 The atomizer bulb is so old it has hardened and cannot be squeezed.
This bottle has no flaws, other than a bit of age discoloration on the pump.
The apricot colored 'hobs' are almost translucent, and mezmerizing to look at under direct lighting. It almost glows.
Vintage Holmes Glass Art Deco Perfume Atomizer Bottle
Size: 4 1/2" x 2 1/2"
This bottle is pressed glass and lovely. The design is very art deco, which is still modern today. There is no damage.
The bulb is hard as a brick, the straw inside is a cloth wick. These are both replaceable, but are provenance of age.
I believe they stopped making cloth straws when plastics came out... in the 30s or 40s perhaps?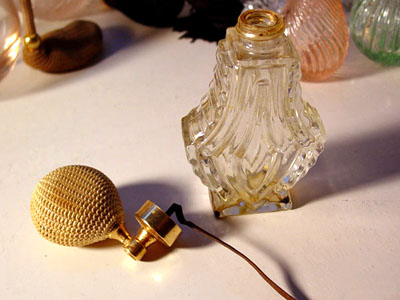 While many perfume bottles look like this, not many are old enough to have cloth wicks still attached.
The bottle has not been cleaned. There is residue from whatever perfume it held, and I wouldn't wash it... the perfume scent is still lovely. Every time you open this bottle, you step back into a bygone era.
Antique Porcelain Bottle w/ painted Scene- Victorian?
This is a gorgeous bottle that is probably Victorian based on the type of painting and porcelain. It is signed on the bottom, but I am not familiar with this mark.
The front and back are depicted below, along with a detail of the bottom mark, and a repair done to the right handle. It would not take much to fully restore the handle with clay and the correct gold paint, but I do not have the skill to do it.
The top is also not snug, something that appears to be common with old porcelain decorative pieces with tops. Without the top, it is a lovely small vase or urn, but the top lends some character. No chips, cracks or repairs beyond the handle.
Ete Perfume Small Cornucopia
Size: 4 1/4" long x 3/4" diameter
This is a strange little bottle.
It is not particularly lovely, because the plastic top is not perfect, but the glass is high quality glass that says "Bottle Made in France" imprinted in it like a Lalique or Baccarat. It looks very old.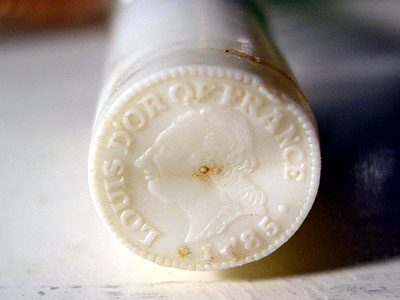 The top of the plastic top has a 'seal' with the profile of King Louis VI, and it says Louis D' Or of France, 1785.
The top is not perfect (though the glass part is). It has a few nicks and bites and stains. However, it is totally strange looking and I cannot fathom why they would make this shape and size, and then put Louis's head on the top.
It is clearly a collector's item, and I've never seen anything like this before. There is a faint perfume residue that is still smellable when you open the bottle that is lovely. Another of those interesting potentially historical scents to attempt to match if you are a perfumer.
"Coiled Glass" Round Bottle
This plain looking bottle is very very heavy. In ancient times, glass was first made by 'coiling' molten glass around the inside of a mold, producing an uneven coiled surface. This bottle appears made that way, the 'coils' are clearly uneven, and appear made by hand, one ring at a time. This bottle DOES have mold marks up the side however, so the uneven coils are puzzling.
The top is a screw on, not a spray, but unlike regular tops, this one is heavy metal. It reminds me of a bullet casing also, both in the weight and the material. While seemingly ordinary, this bottle reminds me of bottles I've seen in museums for it's 'antiquey' weight, feel and simplicity, except this is in better condition than most museum pieces.
I'm going to guess it was made around WWII.
The bonus is, when you open this bottle, a strong scent of violets wafts out. It is a VERY nice violet, so it appears to be one of those painstakingly made Violet waters or perfumes made from real violets that you can no longer find, and not a chemical odor. You never ever want to wash this bottle, and it's a good thing there's no need to, the bottle is just great, and the scent is really wonderful!
Helen
www.zensoaps.com
Email Me
©All Images and text Copyright ZenSoaps 2007-2013. All Rights Reserved. No part of this page may be reproduced without express written permission.