I have amassed quite a large collection of perfume bottles, and rather than put them up one at a time, I thought I would put them into this page as a pictoral album for those who enjoy looking at them as much as I do. I also have some photos of perfumes that I have, and at the end, I include photos of my perfume blending table and setup.
The below is the desk where I keep my favorite glass pieces and perfumes.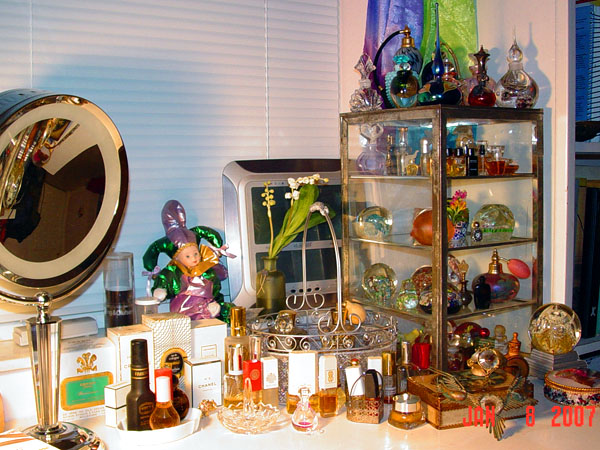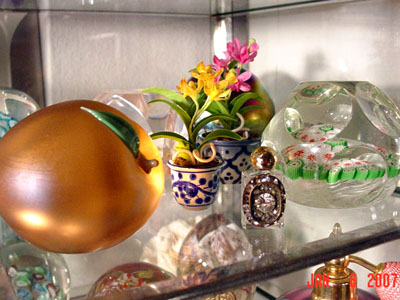 Left: This is the 2nd shelf of my little case, with a tiny
miniature rhinestoned bottle in front.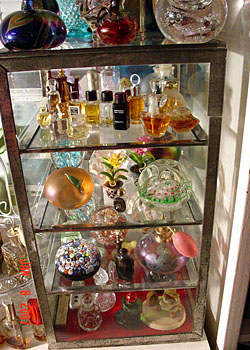 Right: A closeup of my case, where I have my miniature perfumes, a few of my bottle collection, and crystal paperweights, another collecting passion.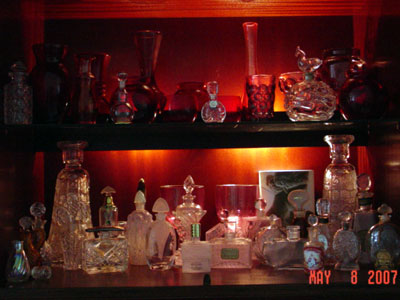 Left: One of the shelves in my Living Room Display.
Many of the walls in my home are covered with shelving for perfume bottles as well.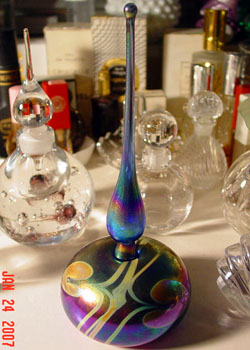 Right: One of my favorite bottles. I bought it from the glass blower who made it out of the ashes from the eruption of Mount Saint Helen's in Washington State about a year after the explosion. The skill level on this irridescent rivals Tiffany's (yes, I have seen Tiffany perfume bottles).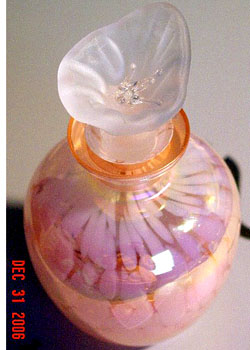 Left: Another favorite. It is breathtaking. The body is irridescent, and the ground top is a frosted calla lily, with clear glass stamens.
Hand blown glass is so stunning and rich in variety.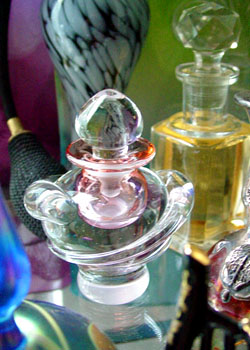 Right: The bottle to the bottom is a favorite. It is pink blown crystal and signed, but I can't make out the signature.
Behind it to the right is my first perfume bottle. It is a cut crystal bottle from the 1920s, and holds one of my first perfume blends.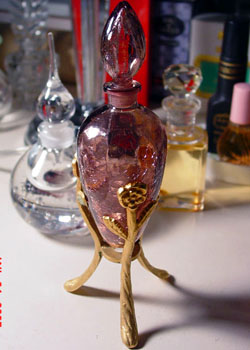 Left: one of my newer acquisitions
an amethyst crackle glass bottle, not vintage, but interesting style.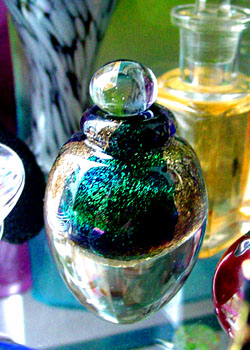 Right: This a signed Eickhart bottle from 1996. It is a different kind of irridescent, with what looks like metallic sheets embedded in the glass. Dichroic glass?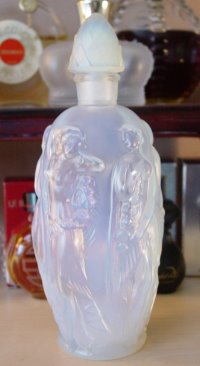 Left: This is a signed Sabino art glass bottle. I believe it dates from the 1930's. It is an incredibly beautiful example of opalescent glass.
There are female figures surrounding the bottle, most in military dress. It's just amazing looking, and the texture of the bottle is sort of oily, a feature in some of the finest glass.
It's one of my favorites also.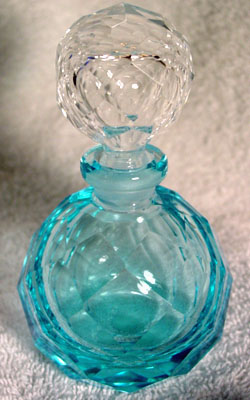 Right: This bottle is a House of Global Art bottle that was made in Japan.
It is hand faceted, and there is simply no way to capture all the facets in a photo. It easily has more cuts than a diamond, and really hard to photograph because of them. I shot this with a towel background to keep every object from reflecting in the mirror-like surfaces.
I love this bottle!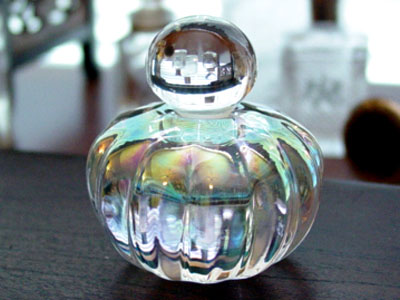 Left: This adorable little irridescent bottle is really small.
It is also an irridescent and just incredible in its luster and perfection. It too is signed, but I cannot read the signature. This has to be the single CUTEST bottle in my entire collection, and you immediately notice it, despite or maybe because of it's dimunitive size.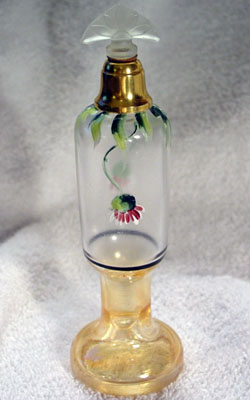 Right: This unique bottle is stamped Czechslovakia on the gold neck.
This is a bizarre bottle, interesting mostly because nothing seems right. The bottom of the bottle is colored irridescent glass. The middle segment does not appear to be melted on, yet there is no color at all... the painted part looks almost amateur in it's simplicity.
The top does not seem to go with the rest of the bottle... yet it is of a high quality with a very very old cork attached.
You would think the body was an atomizer... but the gold top (which is welded onto the glass, or the glass blown to fit into it), has no evidence of threads for an atomizer.
This is the most mysterious bottle I own, if anyone has any insight, I'd love to hear about it!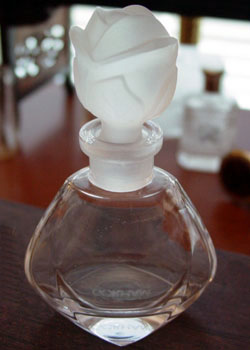 Left: This bottle is by Gorham with a frosted rose top.
Gorham is well known for it's fine silver, so it was strange to see a crystal bottle made by them.
It is not a particularly intricate bottle, just unusual because it was made by a well known Silver company. Perhaps this was a rare foray into a new media for them, crystal. It is a lovely bottle, but a bit plain.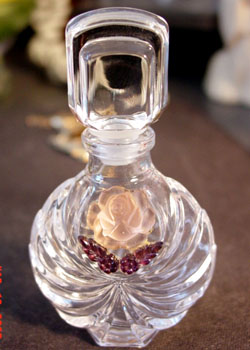 Right: This cute little crystal bottle is signed what appears to be (the K is blurry): "Krystal Made in France".
It is very unique looking, and I don't know if the glass flowers (yes, those are glass!) are original to the bottle or added later as decoration.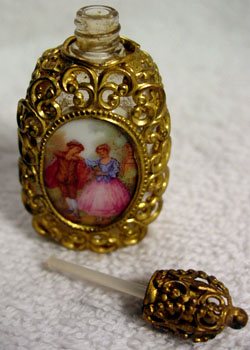 Left: This bottle dates to the Victorian era. The gold filligree is open in the back of the bottle, so you can see the back of the porcelain panel. It says in gold lettering, "Limoges, France".
This bottle is very small, only about 2" tall, but very cute.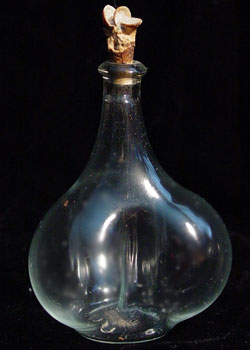 Right: This handblown bottle appears very very old.
It is in a pear shape, and is actually tiny. The entire size of it is about 2 1/2", and the top is made with tiny little shells glued onto a tiny cork with a tiny dauber inside the bottle.
I found a set of bottles in a perfume book that were hand blown with seashell decorations from the turn of the century. This appears to be one of them, but I cannot recall the name.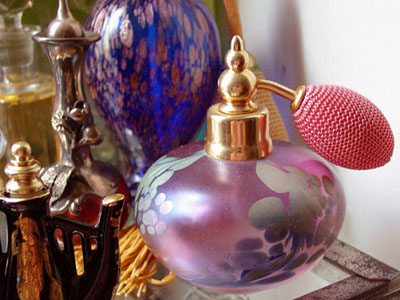 Left: This pink atomizer on the left was a wedding present (from 1989). It is also a signed hand blown piece. I don't typically collect atomizers, I only have 6, but they are exceptional.
To the left and a bit behind the black grecian one is a sterling silver and cranberry glass bottle. It was made in Isreal. The flowers and leaves are delicate and real looking, another of my favorites.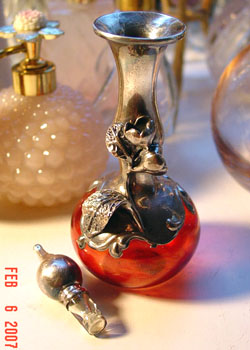 Right: Here is a detail of the red bottle. It's coated in silver, and the top is glass but 'dipped' in silver. It's a very gorgeous piece, with a tag that says, "Made in Isreal. King Solomon's Mines". I bought this years ago at a small mall kiosk. I have never seen them again, nor have I seen bottles like this anywhere since. I typically don't like 'new' bottles, but this one is just beautiful!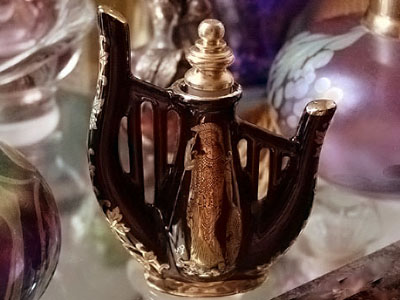 Left: closeup of the Greek bottle. My mother bought this when she visited Greece. It came with a perfume inside already. The gold leaf has incredible detail of of the warrior woman figure. The bottle itself appears to be in the shape of a Lyre, an ancient musical instrument. It says it is painted in 24K gold.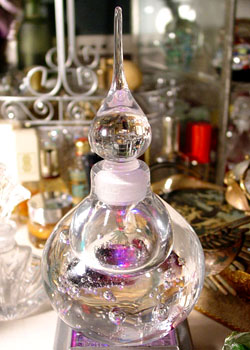 Right: This is a paperweight type of perfume bottle. Very very heavy and large, but holds only about 1/2 an oz of perfume inside. The photo is not very good, but it's got large 'rasberry' bubbles imbedded inside the glass throughout the bottom.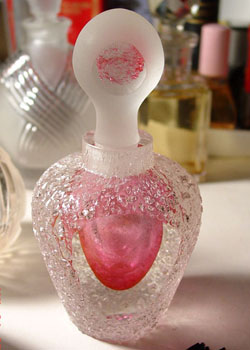 Left: This is a new bottle. It is interesting because it's in the shape of a 'geode'... with a cutaway of the color inside, with a very rough textured outside.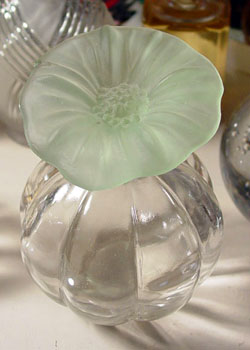 I like the unusual types of bottles, and have a preference for pink and red bottles because they show up better than plain crystal or glass in general.
Right: This green flower topped bottle is interesting because it's a flower. I am crazy about figure type of bottles! Unfortunately the ground glass top does not fit tightly into the bottle, but it is lovely.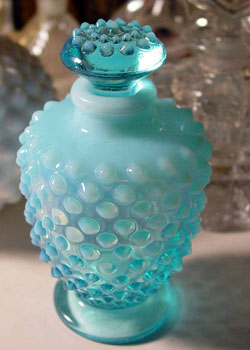 Left: is a 1940's Fenton Aqua Hobnob bottle. I think it's gorgeous, and this color blue bottle has so much translucence and character. I love this color, it's hard to find. A favorite~!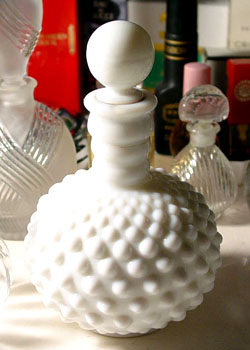 Right: Another Fenton 1940's bottle. This one is a solid milk glass. It is HUGE, and I'm not sure it was originally intended for perfume, as it would hold about a pint! These are not rare, I just like hobnobs, and this one is gigantic so makes a great background bottle!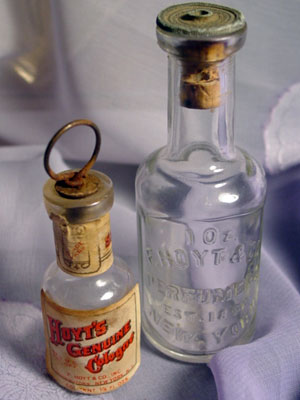 Left: The bottle has stamped in it, "1865 Hoyt Perfume Co."
It apparently held 1 oz of Hoyt & Co's special perfume. It has the authentic unremovable metal top with the hole to pour from, and the original cork.
The smaller Hoyt bottle has its original label, with a metal pull top!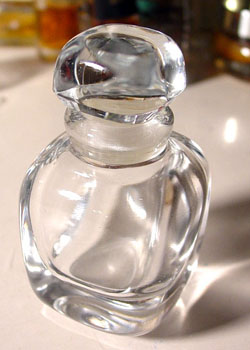 Right: This is an original Givenchy perfume bottle.
I'm not sure which perfume it held originally, but some of the old Givenchy bottles were made by Baccarat or Lalique. This one is 'made in France' and judging by the quality of the crystal, and the weight, it could very well have been Lalique. There's something very oily and comfortable about this bottle, it fits in the hand like a small oiled stone. It's plain, but delightful!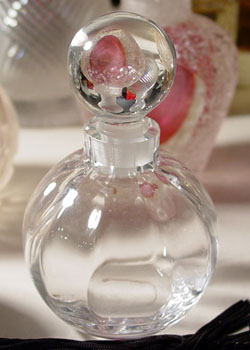 Left: This is an old Lenox. It's flawless in it's roundness. It's so cute and bubblelike!
Lenox and Waterford really do make beautiful classic bottles, but they aren't as interesting to me as the more colorful artglass bottles.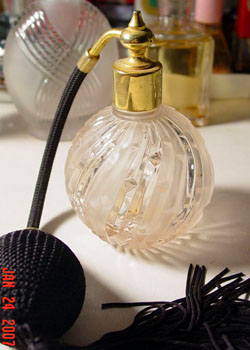 Right: Another of my atomizers. This one is from the 1950s, it's a cut crystal atomizer, which I thought was unusual. It's also a rose color, not clear crystal. Very solid and heavy for it's small size.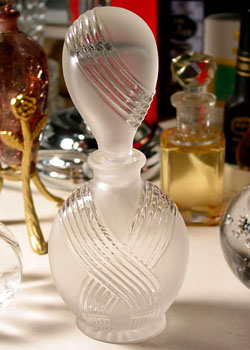 Left: This crystal bottle is strange looking. The top is a very high quality ground glass, and the clear parts appear molded but not cut out of heavy crystal. Yet it's an extremely elegant and heavy bottle. The size is enormous. This bottle would hold about 4 oz of perfume. I'm not sure whether it was created purely for display or as a work of art. It isn't a very practical bottle for use due to the sheer size.
It is far more beautiful in person than in the photo. It's hard to give a clear image of a white or clear bottle in a photograph. Photos almost never do them justice.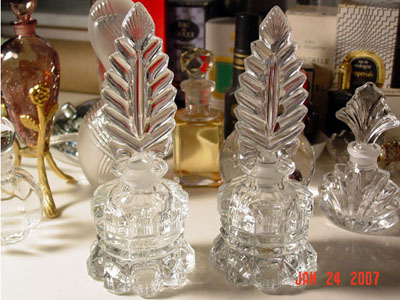 Right: This pair of bottles are the only 'matched' pair I own. They are pressed glass, but the bodies look cut. They are very heavy crystal, with a lot of sparkle. This would be perfect for a his and her custom perfume set!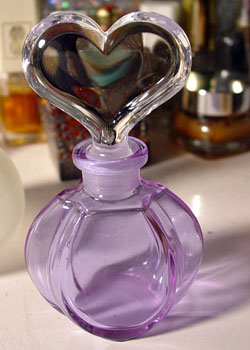 Left: At first glance, this lavender bottle looks like the 'typical' gift shop bottle... but I've seen those bottles, and this is not it. This bottle is unusual because it is a very heavy glass with real weight, and the top is entirely ground glass with a good fit.
I have wondered if the gift shop bottles were based on this bottle originally? They seem to have a partially plastic top, while this is pure glass, with a quality ground fit and finish. Also, the lavender glass is high quality and solid throughout, and not 'dyed' looking as the cheaper gift shop bottles appear. I thought it was very unique, despite that the shape is ubiquitous.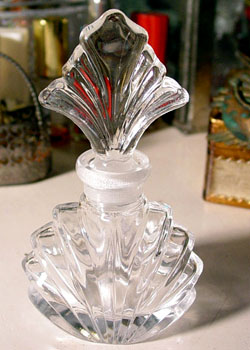 Right: Another 'gift shop' looking bottle... in 24 wt leaded glass. It is solid and heavy and the top is entirely well fitted ground glass. The bottle is molded, but is very well done with no obvious seams.
I have found this bottle in Jane Flanagan's Perfume Bottles' book. It says it's a New Martinsville Glass Manufacturing Co. Made in the early 1930s. Apparently, gift shop bottles are based off of this design.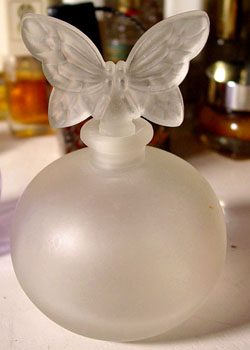 Left: I bought this bottle in a gift/antique shop when I was very young. I have seen a photo of this bottle in a perfume collector book, so maybe it's a nicer bottle than I had thought.
It is a beautiful frosted glass, and it is not very heavy or weighted. I bought it when I was very young, so I treasure it.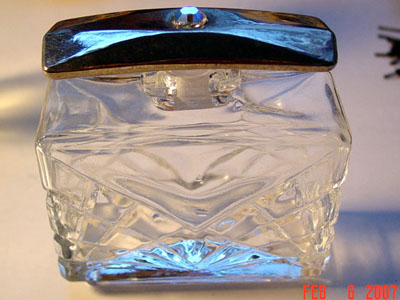 Right: This is a heavy crystal bottle with a silver top and a gem in the center. The silver is coated over glass, and the stopper is ground glass. It is absolutely breathtaking!!
It's a pretty large bottle as well, roughly 4" wide.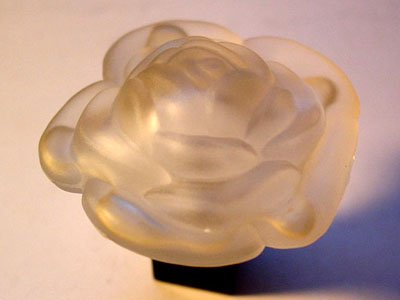 Left: Another figure bottle, this one is small. It's only 1 1/2" around, and the base is actually the cap. It has a label that says, "Vanda", which is the name of an orchid that actually has NO scent whatsoever. Further, it's a frosted rose bottle. Beats me what the people who named it were thinking... but it's gorgeous anyway!
Now I have 2 of these, but the roses are different in the design. I have been told that these are actually from the 1980s.
A quote from the email Jules sent, who was kind enough to send me this information: " Your little rose shaped bottle, with the name "Vanda" on it. Well I know these bottles very well. My sister used to sell them. They were from a "direct selling" perfume company that was founded in South Africa back in 1971. (Though your actual rose bottle was from the 80ies sometime). It was one of those companies that did not have "brick and mortar" stores, but rather used "bored housewives" or "young ladies" who wanted to make some extra money. From selling their products, to friends etc, for a commission.
... A little, or rather very, similar to the "Avon" English cosmetics company. (That I think also sell in the US - "the Avon lady" ??). ...
In fact, Vanda the company was (still is, I think actually !?) very successful, and was "notorious" mostly because it's founder was the very first woman to own her own company in South Africa, and the very first woman self-made millionaire (again in South Africa)... through the "Vanda" cosmetics company she founded. In fact her logo was a vanda orchid (but I think that the company was actual named after her, who was also named Vanda ... (sorry, I cannot remember her surname).
Now that I know a bit of history, I like the bottle even more! Thanks Jules:).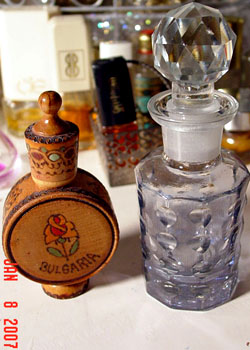 Right: These are unusual bottles. The bulgarian wooden bottle is not very special, but it is a bit different. I only have 3 wooden bottles and this one is an unusual shape. The bottle to the right is a lavender molded glass bottle with a really unusual texture. It is perfect for perfume, in size and shape, so I really like it.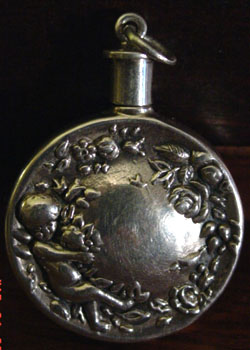 This bottle is marked Sterling Silver. Other than that, I have no idea where it was made, how old it is, or anything else. It's got a baby embossed holding fruit on both sides of it. Mexican Silver? It definitely does not look like modern workmanship, but I don't know much beyond that. It's pretty!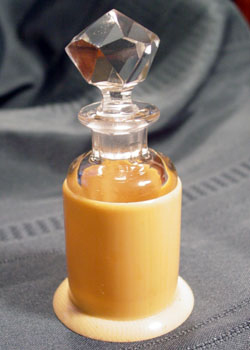 The cut crystal bottle to the right is not spectacular, except for the unique 'celluloid' base that detaches. It's like imitation ivory, with a grain. These types of plastics were very popular back in the 1930s and 1940s, so that dates the bottle easily. I like it, it's sort of like a drink holder:).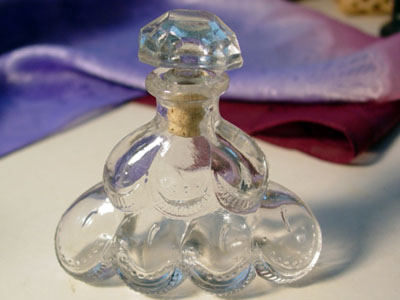 The bottle to the left is a Depression Era perfume bottle with a cork. The glass is not crystal, and is of the type old windowpanes were made of. Very interesting bottle:).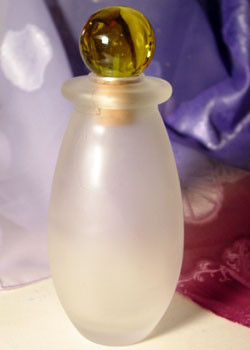 This bottle is a bit large for a perfume bottle, but I'm just fascinated with it. The bottle is very heavy, and just so round and comforting feeling. It's about 8" tall, but it's a beauty.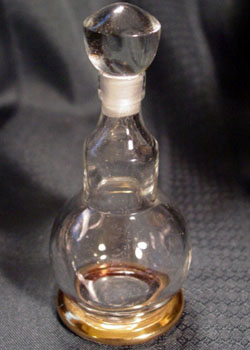 The one on the left has a 24K gilded bottom. This one's old, I have seen it in books dating it to 1890.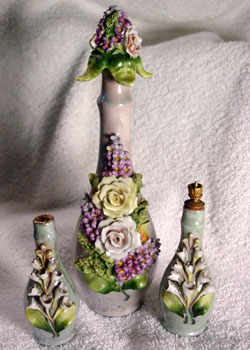 The group to the left are my 'german' bottles from the late 18th century. They are porcelain, but the details are amazing. All are corked tops, the small ones have crown tops.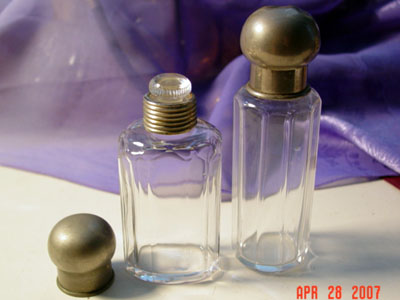 These cute bottles on the left have a heavy metal top (Silver?), that covers another small glass top within. This only exists on one of the bottles, the one to the right doesn't have it. I believe that dates these to the 1890s, when these types of double tops were most popular.
________________________________________________
My Commercial Bottles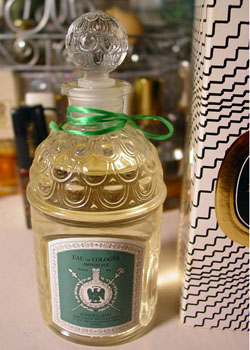 Left: Guerlain's Imperiale. A perfume that was commissioned by Napoleon for his Josephine in the mid 1700s.. My mother had kept it unopened for about 30 years. You can see the original box next to it, which is no longer made. I just broke the seal... what a heavenly scent!!! It is light and vibrant and brilliantly sunny! Unfortunately, it lasts about 10 minutes on the skin. This is a huge bottle, I'm guessing about 8 oz (it does not say anywhere), with a unique ground glass top (unique not because it's the bee bottle, which is still made and sold by Guerlain, but because it's ground glass. New ones today have a metal top, not ground glass). I probably shouldn't have opened it, as it's value sealed is far greater... but I HAD to smell it! I'm glad I did:).
It's a breathtaking bottle and when I decide to wear it more often, I can easily see running through this entire 8oz bottle in a month. You'd need at least an oz a day if you want to smell it once an hour, it fades so fast. But it is gorgeous while it lasts!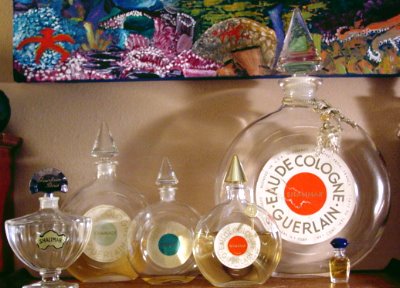 Right: Some more of my Guerlain bottles. Most are Shalimar, but I also have Chamade and Mitsouki here. I also have several Le Heure Bleu bottles as well. I think the colognes are the most interesting looking as a group.
My favorite of course is the HUGE Shalimar I have on the right. For contrast, see the teeny little mini Shalimar with the blue top in front of it? The big bottle says 1 PINT of Shalimar! It would take a while to get through that!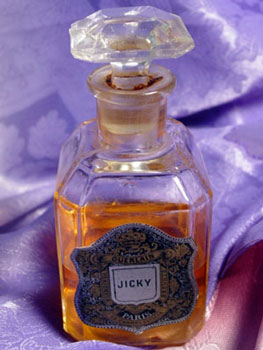 Left: This is an incredible bottle of ORIGINAL Guerlain Jicky from the 1920s, with ORIGINAL content. A friend's grandfather passed away, and left her with an entire collection of perfume bottles from the 1920s. She traded me these precious bottles because she felt I would take good care of them, and appreciate them more than she would. I believe the bottle is made by Baccarat. Thank you Katlyn!!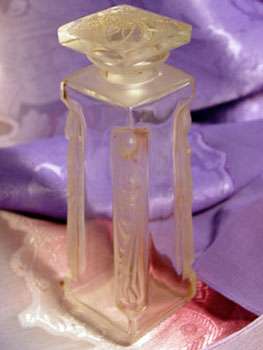 A signed Lalique Dorsay Ambre bottle. It is from the 1920's and has 4 female figures at each corner. Lalique glass is oily and weighty... very hard to describe if not touched. This is a treasure in my collection!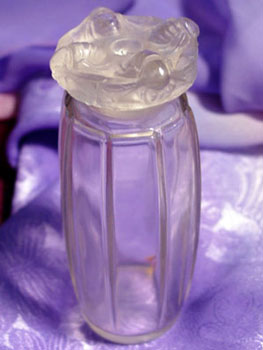 Another signed Lalique bottle - this is the famous 'bees' bottle, although mine is missing the center cone from other photos I've seen of it. However, there is no crack or chip, and it looks like it was made exactly this way, with the center hollowed with the indent.
Lalique is embossed in the glass at the base. Isn't this amazing?!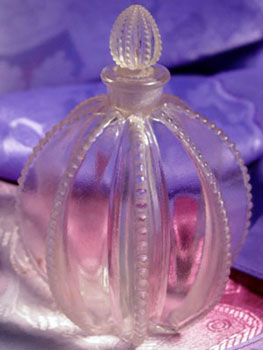 Right: Lalique Gregoire - this bottle is much lighter than the typical lalique bottles, but it's just gorgeous in its detail and delicacy. It is also made with the amazing 'oily' lalique glass. Incredible!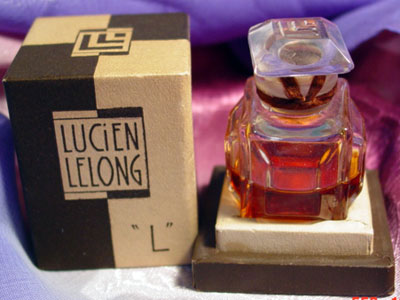 Left: this incredible flawless miniature Lucien Lelong is still sealed from the 1930s!! I believe it's a baccarat bottle, numbered at the bottom, and probably matching cap (not opening it to find out:P).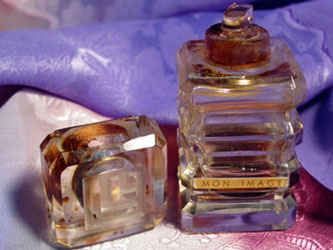 Baccarat Lucien Lelong Mon Image - Large sized. This is the 'classic' Baccarat bottle, signed, numbered.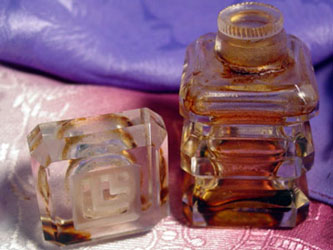 Left: my smaller bottle of Mon Image. Also Baccarat, also from the 1920s.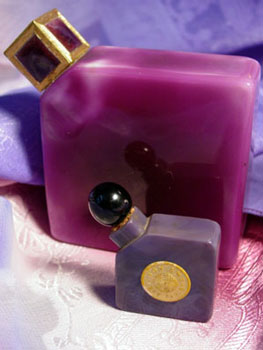 Right: This is the original Baccarat version of Perfume Ybry. I have both the large and small bottles. The small is missing it's original baccarat enameled top (not sure if it had one, as it's a miniature - I have never seen the miniature version anywhere to have one to compare to). Both bottles are from the 1920s.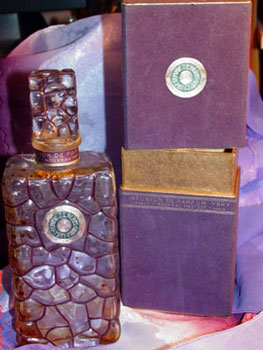 Left: Baccarat Ybry in the HUGE Infusion Version (I think this is 16 oz or more) from the 1920s? It's HUGE.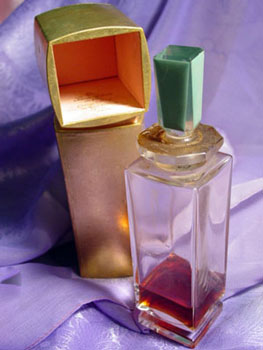 Right: Baccarat Caron Poise de Senteur in the flawless original box... with original content!!! This is sooo beautiful, the photo can't do the bottle justice.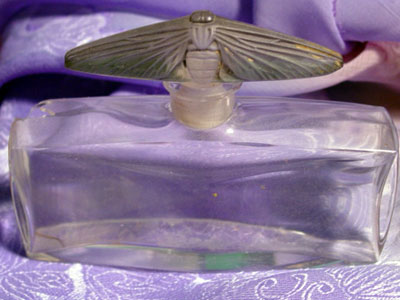 Left: This is an original Baccarat 'Moth' bottle. I found a reference for this bottle in an 1920's ad, but I have never seen a photo of it in any book. There is a chip out of the left rear corner of the bottle, but the top and every other part is flawless! I LOVE figure bottles, this one is a very rare treasure!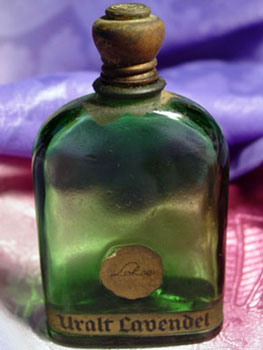 This is the original Uralt Lavendel bottle... I believe it dates from the 1930s, complete with all labels and embossed top. The top is a bit discolored, but still completely intact. Very classic!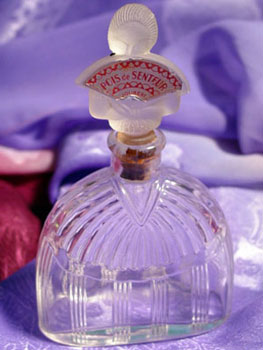 Left: Joubert Pois de Senteur - this is the original bottle from the 1920s... I believe it's pressed glass. The stopper is cork, and the labels are all original and intact.
Just a beautiful figure! I have never found this bottle in any books either!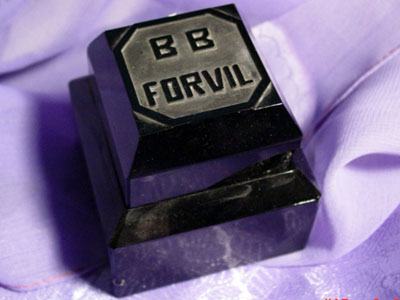 Left: This is a VERY strange bottle. It is massively heavy for it's size (which is a substantial 2 1/4" square).
Another bottle I've never seen in books or photos, the design of this couldn't have been very popular, as it's carved like a tombstone:).
There is a large chip in the top (which I still have). But what a unique bottle!
This ends the collection I acquired from Katlyn, what an incredible bunch of bottles!! (SOLD)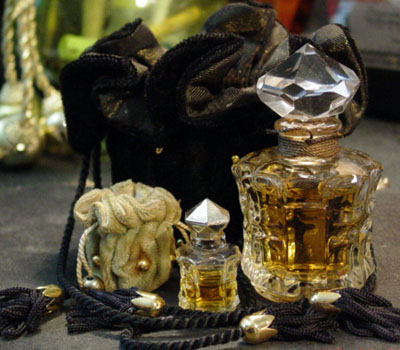 Left: Marquay. The big one with the black velvet bag I got from my mom. She received it as a gift many decades ago. We had no idea what it was, nor could the bottle be opened. There was no label, but the bottle was full and the bag was immaculate. It said Marquay sewn inside the lining of the black bag.
I tried EVERYTHING to open this bottle short of smashing it. Nothing worked. There was some kind of film (I found out later it may have been real sheep's intestines, which was used to seal bottles in the 1920s - 40s) that was very leathery and hard to scrub off the edge of the top. I managed to scrub most of this off, and still could not open the bottle. I guess I'll have to settle with not smelling it. But it is tantalizing. I am guessing the scent is E'elu, but I am not sure. Maybe the big one is a fatice and the top cannot come off?
The tiny smaller bottle is a miniature. It is only 1 1/4" tall, and came in it's own teeny pale green velvet bag. It was so cute I had to buy it to go along with the big one.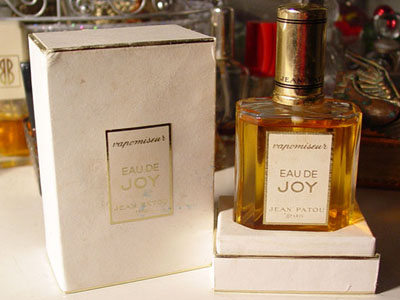 Right: Here is a 2oz bottle of Joy that my mom gave me also. It is about 30 years old, if not older as well. You can see that it is old by the wear to the box and bottle just from time. It still smells just as wonderful as Joy always does. This is not a reformulation, it's the original, in the original spray bottle.
I've been trying to match this formula, but it's difficult without being able to get my hands on the original animal tinctures used. I have managed to get very close however. The perfect duplication is very evasive. Joy has a certain depth that is hard to describe let alone duplicate. It was called, and still is, "the most expensive perfume in the world".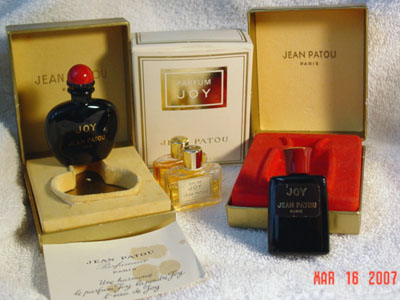 Some of the ingredients today are probably difficult if not impossible to obtain.
Left: Some more Joy I have collected in the more vintage bottles.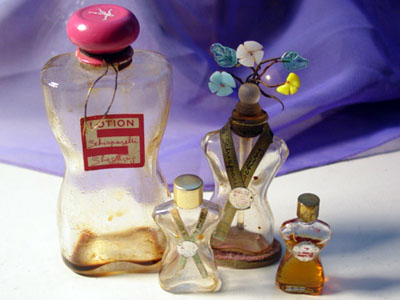 Right: By way of Oldie bottles, here are some favorite unique looking bottles.
They are all various sizes for Schiaparelli's Shocking, a popular perfume in the 1920s. My bottles are not flawless, but I thought they looked more interesting aged like this rather than the more pristine bottles you see with the glass domes. Those have always looked a bit cheap to me, with the lace and the dome, they look like dime store display bottles (which perhaps they were in their time).
These are strange looking but obviously old and like dressmaker dummies. I think they're very cute and are among my favorite vintage bottles!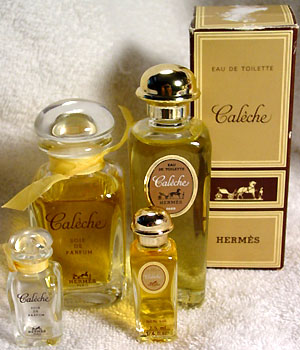 Hermes Caleche is one of my all time favorite perfumes. I don't now like it as much as I once did, but I still hoard it. Caleche means 'carriage', or horse cart, and it's the smell of leather and horses, and hay. It's a very unusual smell for a perfume, very different than almost anything else.
I buy these for personal use more than bottles:).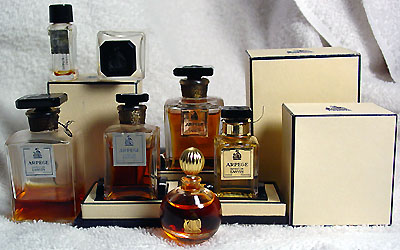 The group to the right are my Lanvin Arpege's only. I have other Lanvins (Rumor, Scandal, My Sin), but I didn't have room to take a complete group photo. The bottles all roughly look like these anyway:).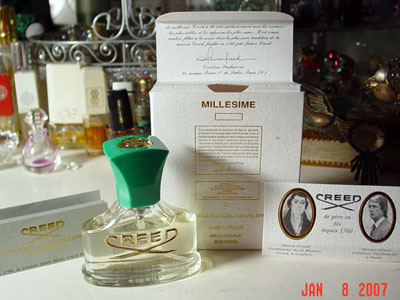 Left: Creed Fleurissimo. Every inch of the box is covered with explanations and the story, along with 2 additional inserts, about the history of Creed, the wedding of Princess Grace, Creed's 200 year perfume dynasty, etc. According to the very ample explanations enclosed, Prince Ranier commissioned this for Princess Grace to wear on her wedding day. Creed delivered 2 gallons of it to the palace and Princess Grace was delighted with it and indeed wore it at her wedding. I have never seen a box so laden with commercialism, especially one so expensive and elegant. The stories are fascinating.
The scent is powdery floral and very light and delicate. It is also not very long lasting, so totally understandable why they needed to send her 2 gallons of it to get her through the day! The bottle I have is 2 oz also, and if I were a delicate blonde, I would probably use that up in a week. Good thing I'm not:).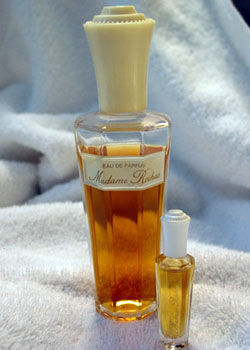 Left: This is one of my favorite classic scents, Madame Rochas.
This perfume was reformulated a few years ago, and it's hard to locate the original.
The original was blended by Guy Roberts, one of the best known and arguably the best perfumist of his time. He recently made the blend Amouage, which many say smells just like his classic Madame Rochas.
So I plan to hoard the bottles you see to the left, the big one is only 2.5 oz and the little one is a mini.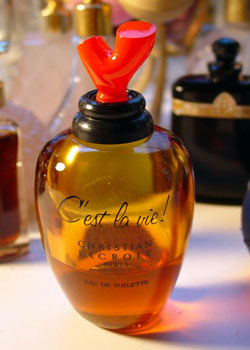 Right: I bought this C'est la vie 1/2 full. It smells nice, but not exceptional... the bottle is what is amazing... it's in the shape of a human heart. The back of the bottle has a concave area. I love the way this bottle looks and feels, it's really unique and beautiful, and its large too.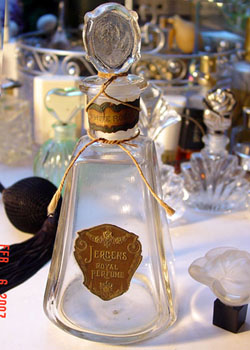 Left: This bottle is really impressive. It's huge, about 16oz, and clearly held perfume. It says "white rose" on a very old paper label in the back, and "Jergens Royal Perfume" on the front, with "White Rose" around the neck.
I think this is the same Jergens that used to make lotion. The bottle looks like it's from the 1920s, and it's a ground glass lid as well. I love these really old bottles, and all the labels are perfect.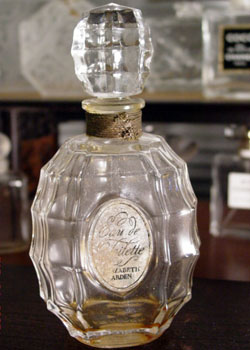 Right: Elizabeth Arden Blue Grass
This is the original bottle from the first version of Elizabeth Arden's famous perfume. It came out in the 1920s. This bottle appears in the Wheaton Museum's private collection. It's heavy, spidered and simply beautiful. The label's a bit faded, but still in amazing condition for its age. And! There is perfume residue (heaven) from the original version at the very bottom! One of my very favorite bottles!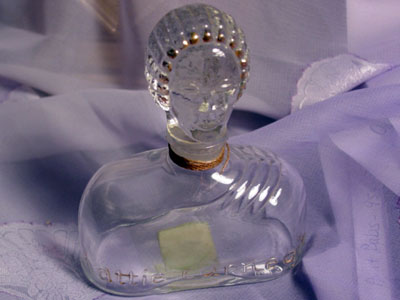 Left: Hatti Carnegie
This is the original Hatti Carnegie bottle from the 1940s. The lettering was lightly guilded. It was very very hard to take pictures of this bottle!!
The face is lovely, but it's very hard to tell.
This is the middle size, it's probably held 1 oz when full. This bottle is also in the Wheaton Museum as one of the all time classics.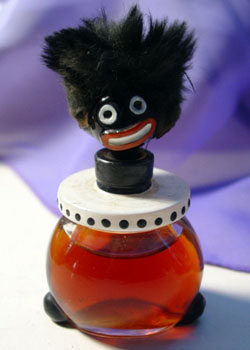 Right - Vigny Gollywog, this is one of the cutest bottles I've ever seen! It's a little boy, and the hair is made of seal skin, and the neck are hand painted. This is from the 1920's. It is absolutely adorable!
The perfume is original, and I have matched it up with a pineapple Vigny Gollywog I have scentwise. It does not smell very good, but it's authentic. Unfortunately, the label is missing, but I still love this bottle!
The below is the pineapple Gollywog version from the 1940s also. It's the miniature of the one to the right.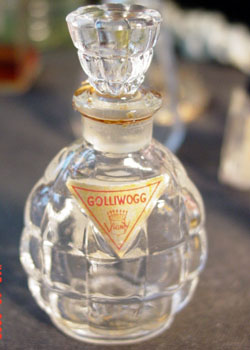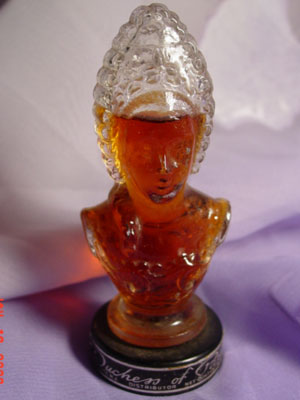 Right: this lovely bottle is a Dutchess of Paris. It was sealed and unopened when I bought it, but you could still smell the perfume around the base. It opens backwards. It's very hard to photograph face bottles! This is only 3" tall, and perfect. I believe this perfume is from the 1940s.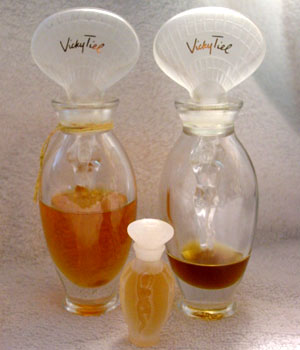 Left: Vicky Tiel, these are modern bottles. I believe they were discontinued in the 1990s. The perfumes are mediocre at best, but the bottles are astonishing. There's no way to properly describe the detail in the stopper, which is a nude woman.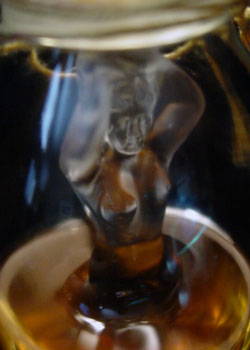 Detail Below: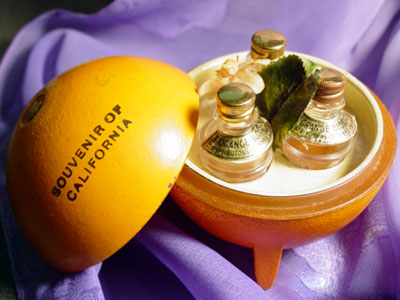 This is a 'souvenir' orange from California, sold back in the 1940's. These are rare, and the tiny little bottles are only 1" tall! The orange itself is only 3" across, and is of a very heavy metal. The weight is really surprising!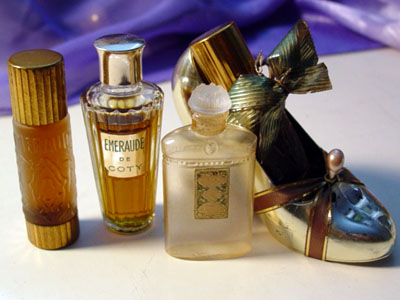 Coty Emeraude Group - These are all Emeraude. I have a set of Coty Paris, Coty L'Origan, and Coty Chypre as well (same and different bottles)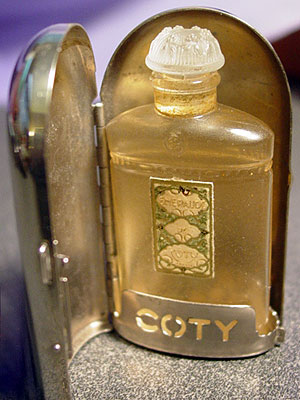 Left is a miniature Emeraude from the 1920s in its Silver case. This is so cute!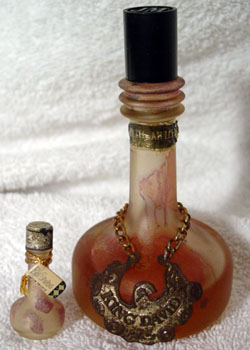 Right are Judith Muller's King David and the miniature is Bathsheba. They are just gorgeous bottles, and smell heavenly. I bought them because I wanted to have a cross section of famous international scents as well. These are from Isreal.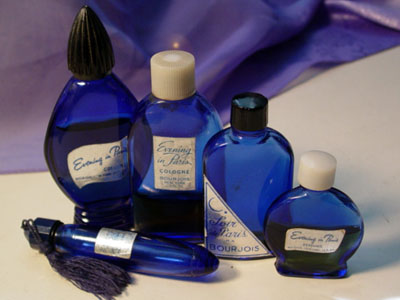 Left are Evening in Paris by Bourjois. I used to really love this color cobalt blue, so I bought these every time I saw them. They are lovely bottles, if plain, and the scent has been well known for decades.
These bottles probably date from the 1960s.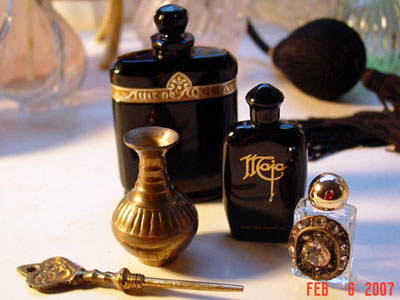 Right: This is my exotic group. They are all very small bottles. The one in the back is a 1oz bottle of Nuit de Noel by Carron, Maja, and 2 really really tiny bottles in the front. The tiny rhinestone one in front is only 1" tall and 1/2" wide! I have not clue what it's from, but it's adorable!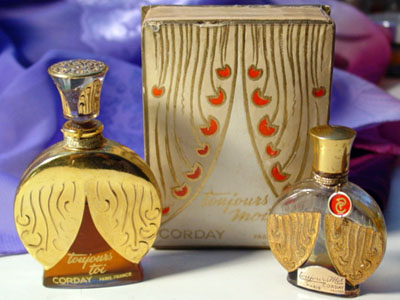 These are among my favorite of the commercial bottles too. They are Corday, Toujours Toi and Toujours Moi.
They date from the 1940's to 1950's, and the one on the left was sealed, so despite evaporation, is about 1/2 full. The top on the larger bottle is glass, with a gold overlay. These are really gorgeous bottles.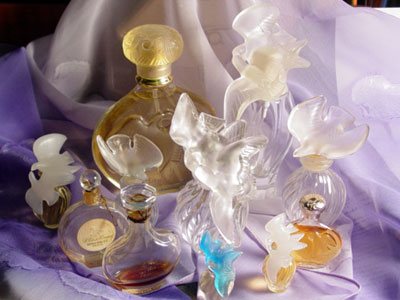 Nina Ricci's L'air du Temp group. I like the birds, but are not particularly fond of this perfume. The lalique bottles are genius, and I wish the perfume smelled better. On the other hand, I'd have even more bottles of it than I do (I have more of this than shown), so probably just as well:).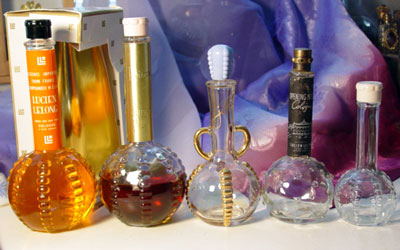 Left: Lucien Lelong Colognes. I think these, like the Guerlain, are as interesting or more interesting than the perfume bottles. I have an extremely early one, Whispers, with the metal top from the 1930s, to the Balalaika from the 1960s on the far left.
Lelongs are my favorites to collect, the bottles are all so unique!
Below are some of the Lelong Perfumes. The one on the far left is NOT a lelong, it's just in the wrong pix:P.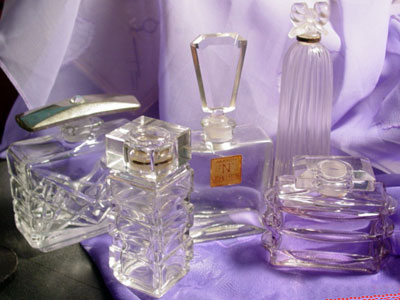 Far back right - Indiscret
Middle - N
Front left - Mon Image
Not sure about the one on the front right, it may be a Dorsay.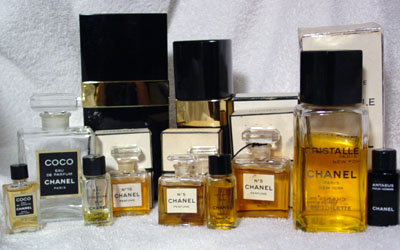 Left: Entire Chanel collection. Chanel #5 is my favorite commercial perfume. It is the first aldehydic perfume formula, and it 'sparkles'. I love it, the scent actually reminds me of diamonds. I used up the parfum, but I still have several old sample bottles. I'm less wasteful of them to try to make them last, as these are the original formulas and not the reformulated.
I have many Chanels, but none are as nice as #5. I love the smell of Cristalle, but it doesn't wear on me as well as #5 does.
I had a friend in college who went though the largest size bottle of Cristalle every month. On her it was incredible. It made me ask my boyfriend (now husband) to buy me this bottle... and unfortunately, never smelled anything on me like it did on her. Which is a good thing I suppose, because I wouldn't now still have it.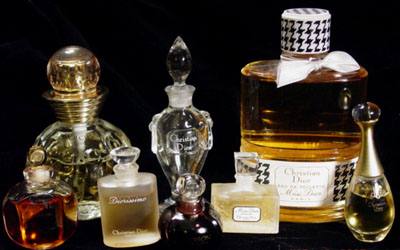 Right: My Christian Dior collection. I actually have several more bottles of various Dior's that didn't manage to make this photo.
Dior makes some of my favorite perfumes, I always keep a spray bottle of vintage Diorissimo around, the lily of the valley (which doesn't smell like any other lily of the valley fragrance) is so uplifting and unique. Miss Dior is the classic chypre perfume. All the Dior's are amazing in their own way.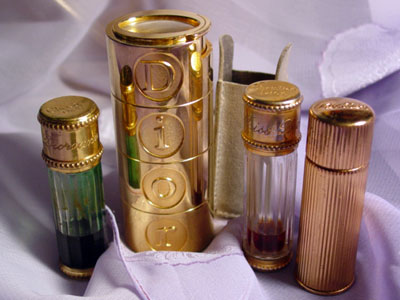 Left are some of my Dior purse sized collectibles. Included in this, I'm really proud to have a Diorama on the far left, with content. These are all heavy metal bottles from the 1950s.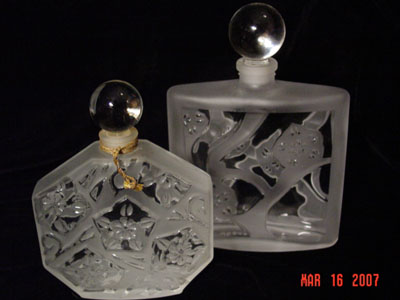 Right: these are my Brousseau group.
They are not very vintage, but the bottles are oily and beautiful. There are no markings, but I have read that they were made by Lalique. This is certainly possible based on the quality, but I find it hard to believe they wouldn't mark them. Either way, the etchings are very deep, and the bottles are very heavy solid crystal. They are also HUGE bottles, the big one in the back (Ombre Bleu) stands 6" tall and would hold 8 oz is my guess. The Ombre Rose in the front is 5" tall and would hold around 4oz (it's not squared). Beautiful!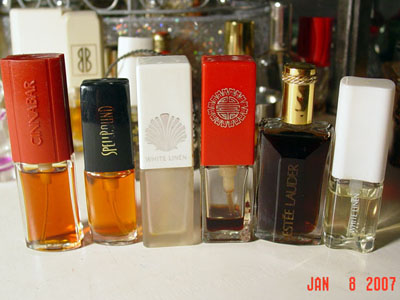 Left: My small collection of old Estee Lauder scents. I got these as free gifts for buying cosmetics back in college days. I never used them... because I never liked Estee Lauder perfumes. But they are great to have for comparisons when blending my own perfumes.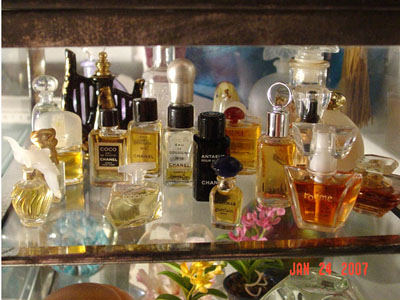 Right: Closeups of some of my perfume minatures. I now have hundreds more.
Years ago, whenever you bought anything at Saks, they would give you free perfume bottles in their original bottles. I never used them, but because of their age, and the fact that so many have been 'reformulated' in the last few years, it's great to still have the original scents. Shalimar, L'air du Temps, Tresor, Lagerfeld, Bill Blass, Opium, Tatiana, Worth, Pleasures, and various others in their original little bottles. They are great perfume references for blending. The bottles themselves are crystal miniatures of their larger bottles. Just adorable!
Here is a wide view of my office wall, with a small part of my mini perfume collection: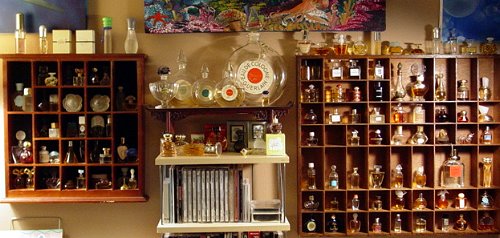 When I first started this page, I only had my bedroom desk involved in my perfume collecting. Now, it's spread to my office. The above photo is only 1 wall of my office now.
The perfumes have also consumed the tops of my file cabinets, my windowsills, as well as the shelves above my bathtub, the complete wall unit in my living room, and 3 of my bedroom walls worth of shelving. Perfume collecting can become an obsession very quickly... LOL!
What you see on this page is but a fraction of my actual collection, and among my favorites. I currently have over 1000 bottles both large and small, full and empty, vintage and new, and I'm adding to it constantly.
The below is a photo of my office windowsill. I keep only my empty commercial perfume bottles on this windowsill so light cannot damage any perfumes. How obsessive is this?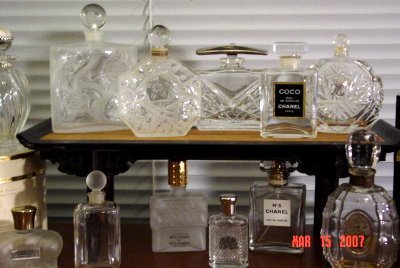 Below: My perfume blending table. While it's not very fancy and not a typical perfumers 'organ', I have it laid out conveniently to use. All my essential oils are diluted in small glass bottles with ground glass tops, and some with dropper tops. I keep the diluted bottles in the small cabinet below my table, and most of my delicate small expensive absolutes and essential oils in the small refrigerator to the right (not showing).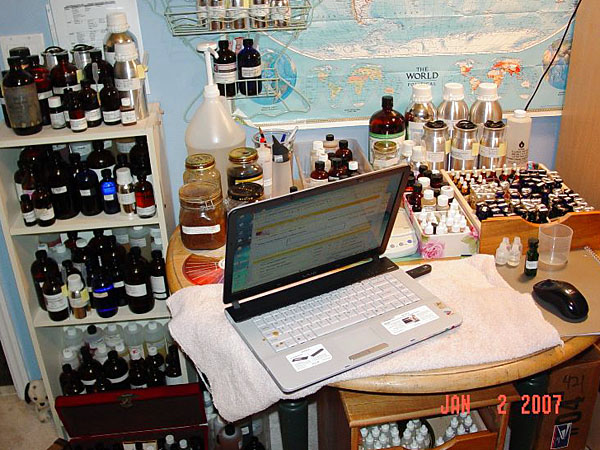 When I blend, I pull out the drawer that contains the groups of scents I want to blend from, and swap the drawers out as needed. This system is actually neater and more efficient than an organ for me, because I can free much more table space up as needed. When I am happy with a small test blend, I can then use the larger bottles to recreate the blend in greater quantities, as needed. This is not a professional setup, but it works well for my hobby use.
Thanks for looking, hope you enjoyed the page!
Click HERE to go to my Trade/Sale Bottle Page.
Click HERE to go to my Perfume Miniatures Trade/Sale Bottle Page
Click HERE to go to my Perfume Trade/Sale Page
Helen
1/25/07
-Edited 6/26/08
Proud member of the International Perfume Bottles Association
©All Images and text Copyright ZenSoaps 2007-2013. All Rights Reserved. No part of this page may be reproduced without express written permission.