Trade or Sale
I will consider trading equal value for vintage classic perfumes or miniatures I don't already have.
I mostly collect Dior, Chanel (#22), Caron (Nuit), Guerlain, Lucien Lelong, Coty, Dali, Lalique, Rochas, Creed or bottles with glass tops in mini form (I am trying to save space), but will consider anything, particularly figureal bottles of any brand.
Fair value would be a google search for the bottle type and comparing to the same company prices for the trade values, highest to highest, lowest to lowest prices.
If you want to buy one of the bottles outright, contact me for a price.
If you have any questions, email me at: helen@zensoaps.com or helenae@bellsouth.net
Click HERE to go to my Trade/Sale Bottle Page.
Click HERE to go to my Perfume Miniatures Trade/Sale Bottle Page
Click HERE to go to my Personal Perfume Collection Page
Vintage Bourjois Evening in Paris - 1960s?
Evening in Paris was created in 1928. These bottles are probably from the 1950's or 1960's. The first bottle has a perfect label and contains 1/2 of the original cologne. I am guessing this is the 1 oz size, it's hard to tell.
The bottles are both 4" tall x 2" wide.
The 2nd bottle has a more faded (but still legible) label and contains no perfume. This is just a bonus.
It was this perfume that made cobalt bottles well known and desirable, and even today, these are beautiful bottles. The perfume is still fantastic too.
Dana Tabu 1950s ?
This is a nearly 1/3 bottle of authentic original Tabu, reputed to be one of the most sensuous perfumes of the era.
This perfume came out in 1932, and is a spicy, sexy oriental. I cannot tell what era this bottle is from, but it definitely doesn't smell like the cheap perfumes Dana later became known for.
This is a beautiful label in the 'classic' romantic violin bottle.
It is a concentrated Eau de Parfum in a 1/2 oz size, so there is nearly 1/6 oz of original parfum remaining for use.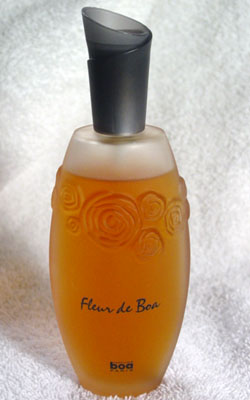 Rare Vintage Fleur de Boa Perfume Spray - Huge 3.4 oz

Very rare vintage Fleur de Boa by Parfums Boa, this is a huge 3.4 oz Eau de Toilette (100 ml).
The bottle is magnificent, and is more often seen as a mini than full sized. This bottle is a huge 6 3/4" tall, so very impressive looking as well. Besides looking and feeling feminine, you will not smell like anyone else.
The full sized has embossed roses in the frosted bottle and the plastic cap is rolled like a grey rose. The bottle is magnificent! From Paris France, bottle says "Made in France" on the bottom
Vintage Coco Chanel
50 ml Perfume Spray EDT Sealed Bottle

This is a completely full Vintage Department Store version of Coco Chanel Eau de Toilette in an unrefillable sealed spray bottle. 50 ml is 1.7 oz, and you can see it has never been used. 5" tall bottle.
The below photo is the bottom of the bottle. It is embossed Chanel with a numbered sticker.
There is no box, it was brought back from Paris in luggage, so all boxes were tossed to save space.
It smells amazing, and as with all vintage perfumes, stronger than modern EDT's, and closer to Parfum.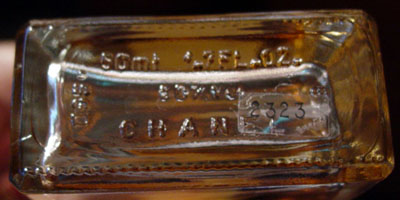 Vintage Madame Rochas Byzance Perfume Spray Bottle 1.7 oz (SOLD)

5 1/4" tall bottle of Byzance. You can see by the seal on the neck that it is an authentic older Madame Rochas bottle.
It is completely full and bought for the beautiful bottle, so the perfume was never used.
There are no flaws in the bottle and it's beautiful in every way.
Says "Eau de Parfum, Rochas - Paris" on the bottom.
Vintage Carolina Herrera Spray Perfume Bottle 1.7 oz

This bottle definitely looks rough. It was in the bathroom where the bottle got humidity. The bottle is 60% full however, and the perfume is fine.
This perfume is the 'classic' day scent. Not noxious to anyone, light and airy.
The notes are orange blossom, rosewood and jasmine, with honeysuckle, sandalwood and vetiver. Just wonderful!
Bottle says "Made in Spain by Antonio Puig, Barcelona"
However, given that the bottle is not pristine, the best use for this is to refill vintage mini bottles of Carolina Herrera, or to use it on yourself, it's a beautiful perfume!
Very rare Imagine EDT Spray Perfume by Jean-Louis Vermeil 2.5oz

TALL 7 1/2", with a unique looking bottle. There are some scratches on the black part of the bottle from storage.
You see the mini's but rarely the full sized original. This is a very rare and hard to find scent that has been discontinued!
From Paris, France, for the person who wants a perfume few others own.
Rare Versace Versus - Perfume Spray Bottle 1.7 oz

This 1.7 oz bottle stands 4 1/2" tall.
It is a discontinued fragrance, thus harder to find. Created in 1991, it has been commercially unavailable for a number of years.
Some describe it as the smell of red raspberries and strawberries. It is fruity yet deep. Some people adore it, and for those who can wear it, it can be a unique signature scent.
This bottle says "Made in Italy", Versace Profumi USA.
Very Rare Pupa Bouquet 5 Perfume Bottles in beautiful plastic 'bouquet'

This 'bouquet' consists of 4 brand new never used Pupa Spray Flowers. There are supposed to be 5, but 1 broke in shipping to me. I have heard you can buy a replacement flower (but I don't know where). The flowers are 2 yellow, 1 pink, 1 orange flower.
Each plastic flower head holder can definitely be reused with a new flower, and you don't even notice the missing one unless you turn the entire bouquet to the back.
This set is brand new and pristine in every way. It's HUGE however, if you take a look at the ruler, the box is 9 1/2" tall, despite that each flower only holds about 1/2 oz of perfume.
Christian Dior Dolce Vita 1.7 oz Perfume Spray Bottle (SOLD)
This bottle is 90% full, in perfect condition. 3 3/4" tall Eau de Toilette Spray.
Dolce Vita is one of Dior's newer perfumes, created by perfumer Pierre Bourdon, with the bottle designed by Serge Mansau. It's an incredible collectors bottle even after the perfume is gone. This is a Dept Store bottle.
Top Notes: Rose, Magnolia, Muguet
Middle Notes: Apricot, Peach, Cinnamon
Base Notes: Sandalwood, Vanilla, Heliotrope
Van Cleef & Arpels First EDT Perfume Spray Bottle - 2oz from Dept Store
This large 2 oz gorgeous spray bottle is 5" tall and just wonderful.
Tthe ultimate and perhaps last 'classic' French scent, created in 1976, and smells very much like a Chanel, but in some ways nicer.
This was a department store purchase, and 100% full.
Capucci Pour Homme 1 oz EDT Perfume bottle

This classic chypre Men's cologne by Roberto Capucci is along the lines of Armani and Eau Sauvage. Considered one of the classic men's fragrances because it is a timeless scent that was wonderful in the 60s, and still relevant in 2007.
This is a full bottle that has been spritzed once or twice. It's hard to resist spritzing, it's delicious!
Duende by J del Pozo - 1.7oz Spray Perfume Bottle
A fantastic warm weather scent. lemony floral with a bit of spice, perfect for a light daytime scent. This is a very feminine and subtle scent, and if you love the Venezia's you will adore this. I don't mind not selling this one, it is fantastic, and the bottle is gorgeous.
Jesus del Pozo is considered one of the more creative newer perfumers from Spain. This bottle comes directly from Madrid.
RARE Vintage Elizabeth Arden's Red Door EDT 3.4oz Perfume Spray
This is my personal bottle that I have kept for nearly 30 years myself, I got it in 1979. The box and bottle are pristine, I stored the perfume in the box always, there is barely any evaporation. I have always taken great care of my scents.
Red Door stands for Elizabeth Arden's Salon on 5th Ave NYC, where she made her reputation. Arguably, this was her most prestigious and coveted scent.
Completely original, I won't be upset if I don't sell it. I just have too many large sized perfumes.
Very Rare Vintage Laura Biagiotti Venetia Pastello Perfume Bottle
This is a completely full and unused .85 oz Eau de Toilette of Venezia Pastello with the original box. This perfume is now discontinued and very hard to find.
It's a shame that it was discontinued, it's one of the most beautiful fragrances ever made. It is very sought after, and smells incredible. This is the original candied floral version and not a remake.
This bottle was kept in flawless new condition and never displayed.
Vintage Hermes Caleche EDT 2 oz (60ml)
This large full bottle of Caleche Eau de Toilette is from the 60's or 70's. It has it's original 2nd rubber seal inside the cap, and comes with original box, which is somewhat worn after decades.
This is one of my very favorite scents, it is extremely rich and elegant, yet light and uplifting, one of the best day wear perfumes ever made.
This is the US department store version of Caleche.
Vintage Lalique Nina Ricci's L'Air du Temps Spray Perfume Bottle Huge 3.3oz

This HUGE bottle is photographed next to a normal L'air du Temps mini dove bottle so you can see the size difference.
The bottom of the bottle is clearly embossed "Lalique" as shown in the lower photo.
Typical of all Lalique bottles, the crystal is slightly oily and just as wonderful to hold as any vintage Lalique bottle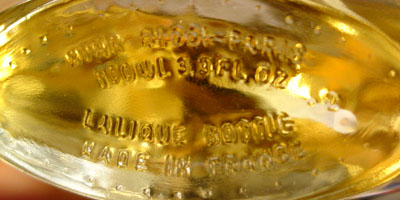 .
Newer L'Air du Temps bottles are not made by Lalique.
Vintage Rare Sortilege by Le Galion 1/4 oz Crystal Flacon Perfume Bottle
This very very rare vintage Le Galion is in its original box. This perfume was created in 1937 and was discontinued early on, but remade much later, not by Le Galion. This bottle probably dates from the 1940s due to the on the gold embossed label which has the galleon ship on top, not seen in later Le Galions.
This is the ORIGINAL Le Galion Box and perfume! It is so old that there is NO identifying description (Extrait, Parfum, EDT), and is extremely concentrated, most likely Extrait strength.
The box is somewhat worn, and the perfume has partly evaporated, but is still lovely, and completely original.
The bottle and all gold parts are immaculate, as is the original gold embossed label.
Vintage Fleurs De Rocaille Perfume Bottle w/ Box (SOLD)
This bottle of Fleurs de Rocaille has had customs scratch out the Caron name during importation.
Either this perfume was illegally imported from France without paying US tarriffs, or it violated US Trademark laws (ie, the Caron name was already Trademarked in NY, so importing a Caron from Caron France would cause customs seizure. I have no idea the reason, this is how I bought it.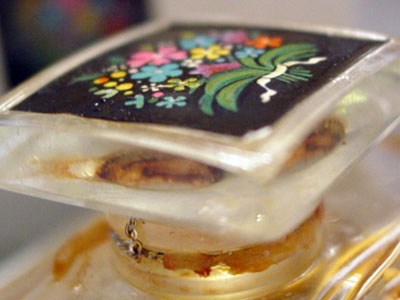 The bottle is lovely, and SEALED. The gold cord around the neck is still intact, along with the sealing wax around the outside of the gold cord surrounding the neck.
As you can see by the lower photo, the floral portion on top is slightly peeled upwards.
I have not opened it to smell, because of the seal, but from smelling it around the outside of the bottle, it definitely smells like Fleurs, the vintage version. Evaporation has left the bottle around 70% full.
Vintage Never Opened Tiffany Perfume in Gold Filligree Bottle
The box is 6" long and the perfume is 4" long. I cannot tell how much is in there, it appears to be either 1.5 oz or 2 oz.
The gold filligree looks flawless, and the bottle is mostly full, with any minor loss due to evaporation.
I do NOT think this is from the Tiffany Co, who only began making perfume for the first time in 1985. This bottle is far older, dating probably from the 1950s, possibly 40s, and as such is a worthy collectible due to its age, rarity and condition.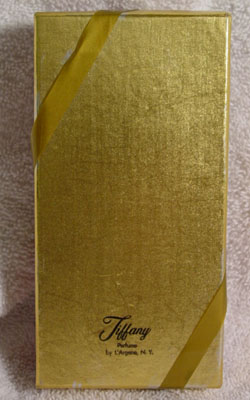 The photo to the right shows the back of the box, note that there is no zipcode with the address. That means the perfume dates from before the late 50's.
The box is as pristine as possible considering how many decades old it is, and the bottle is full of original perfume.
Vintage Lanvin Arpege Perfume Extrait Bottle - 1 oz w/ display box and documentation- SEALED!
(SOLD)
The box for this is PRISTINE. The seal is UNDER the attached cord and is not broken anywhere.
Any loss is due entirely to evaporation, but there is minimal loss.
This is a flawless collector's item.
Note that the top is expensive black glass, with the mother daughter logo CARVED into it.
The original paper insert comes with the box as well.
No staining, spills, smears, tears to the box. As I said, Flawless.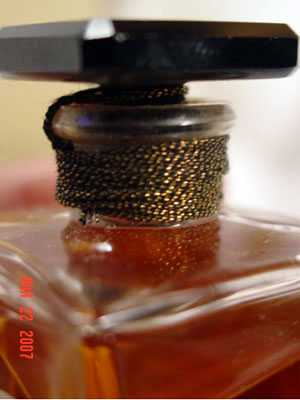 Vintage Lanvin Extrait de Arpege Perfume Bottle - 1/2 oz Sealed- never opened
This bottle of Arpege is sealed with not only the string, but the original plastic seal is also completely intact UNDER the cord (see photo below). This style bottle is from the 1950's through '60s.
It comes with its original inner box, and displays perfectly. The perfume can be faintly smelled through the bottle.
Extrait is the strongest concentration of perfume oils vs alcohol. It is usually 25% pure oils, much higher than Eau de Parfum and vintage perfumes utilized more authentic expensive plant oils than modern perfumes do.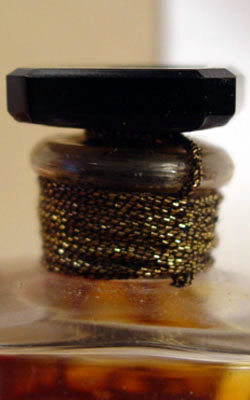 Extrait concentration is rarely seen today. It is so strong, you can smell it just sniffing outside the cap.
Both the box and the bottle are 100% flawless and nearly in new condition. There is no break or crack in the plastic neck seal or string.
Click HERE to go to my Trade/Sale Bottle Page.
Click HERE to go to my Perfume Miniatures Trade/Sale Bottle Page
SOLD Perfumes
Vintage Squibb Cod Liver Oil Bottle from WWII

RARE!!!! Cod Liver Oil is a part of American History. This bottle was made by E. R. Squibb & Sons, New York. The bottle is mostly full, and may have been unused. The top is sealed on (which is probably what protected the contents for so many decades). Fully paper labeled front and back, but parts have torn off (see photo)
It measures 7" tall x 3 1/2" wide, and weighs 1 lb 7.1 oz with no packaging. It says 12 fl oz (cod liver oil must be very heavy... or the bottle weighs a lot).
On the bottom, it says Design Pat. 87401 and Bottle made in U.S.A.
If you take a close look at the photo, you can see that it clearly cites US Patent #1829571 protection for their special Cod Liver Oil Process on the label. This patent was filed in 1929, and granted in 1931. A US Patent only protects for 17 years.
We date this bottle between 1938 and 1945 for the reasons below. If you have more information, please email me.
The contents are still viscous with no percipitation. The label says :
"A carefully selected, pure, stearinated Cod Liver Oil... which includes treatment with carbon dioxide... Each lot tested and standardized by the Squibb Biological Laboratories"
In 1938 the Squibb Institute for Medical Research was established. The bottle cites Squibb's Biological Labs, it's unclear whether they meant the Medical Research lab from 1938, or the Lab Squibb created in 1944 for the production of Penicillin, so I assume the first.
In 1946 Squibb International was incorporated. The label on this bottle still says E.R. Squibb & Sons, not Incorporated. This dates the bottle pre-1946, post 1938 (Squibb biological labs).
There is quite a lot of interesting history for Squibbs in the US, and if you search the internet, you will find quite a bit of information.
Odds are very good that your parents (or grandparents) had to drink this Cod Liver Oil every single day. It's a piece of their history too, as Squibbs was the best Cod Liver Oil available in that era. Great bottle to threaten the grandkids with.
I have never seen a bottle of Cod Liver Oil in this excellent, labeled, readable condition which still contains its oily contents.
This bottle is in the best condition you can expect to find a nearly full bottle of a household essential like cod liver oil.
Vintage Crystal topped Perfume Bottle 4711 - sealed & never opened!
- SOLD!

This is a rare crystal topped fancy version of 4711 as sold in Dept Stores, and not the usual colognes wasser you see. The top is crystal, and the bottle is completely sealed. It has never been opened.
The bottle is 7" tall and contains about 4oz of Eau de Cologne.
There is a slight tear in the front label (lower right 'coins', you can see in the photo). And also a small chip in the lower back of the bottle from me banging it on a shelf putting it back. This cannot be seen from the front.
Other than these 2 minor flaws, the bottle is perfect and unusual.
Il Bacio Perfume Spray by Borghese-HUGE 3.4 oz!
SOLD!
This perfume came out in 1993 and is a fruity floral delight. There are many reviews on the Internet about it, it is a unique and highly regarded scent.
This is a 3.4 oz (100 ml) gorgeous spray bottle that is almost 7" tall. It is an Eau de Parfum, not Toilette, and came from a retail store, not online.
This sells for $62.50 at the Borghese site: http://www.borghese.com/product_detail.cfm?c=f&cat=38&pid=1284RT
Receive an Italian kiss with Il Bacio - a romantic fragrance that is a celebration of love. An unabashedly sensual fruity, floral fragrance that is feminine, elegant and distinctive. It is composed of lavish natural essences that begin with Rose, Freesia, Jasmine and Bergamot and end with senesual Amber, Musk and Sandalwood oils.
Not available for shipping outside of US.


Top Notes: A glorious floral with delicate Freesia, Honeysuckle, Jasmine, Lily-of-the Valley and Rose.

Middle Notes: Multi-faceted fruity florals of Melon, Peach, Plum and Passion Fruit.

Bottom Notes: Sensually warm as the Tuscan sun Musk, Amber, Sandalwood and Cedarwood.
Rare Versace Yellow Jeans Perfume Spray Bottle 2.5oz
SOLD!
Sunny and uplifting, this light and fruity perfume can last all day. The bottle is 5 1/4" tall and perfect.
It is 90% full, having been spritzed a few times.
Most of the time, you see this as a miniature also, the full sized bottle is hard to find. If you love the miniature, you may want the full sized bottle.
Bottle says "Made in Italy, Milano, Versace Profumi USA"
Givenchy L'Interdit Perfume for Audrey Hepburn - 1.7 oz EDT Spray Perfume Bottle
SOLD!
L'Interdict perfume was created for Audrey Hepburn by Francis Fabron for Givenchy in 1957. It was discontinued in the 1990s and then reintroduced reformulated in 2002.
I am NOT sure if this bottle is the vintage or the newer reformulation.
Per Bois de Jasmin:
" As for the original L'Interdit, it was a fragrance of elegant beauty, with a playful side. The opening notes are of aldehydes paired with bergamot, which soften considerably as the fragrance is allowed to meld into the skin and reveal soft peach and strawberry--ripe fruit warmed by the sun--on the floral backdrop of rose, jasmine and iris. The floral notes are not distinct, instead presenting a beautiful swirl of abstract shapes, with the edges blurring into each other. Yet, above this refined melody, spicy carnation adds some pleasant honeyed warmth, thus enhances the floral voices. Matte glow of amber paired with the earthy opacity of vetiver forms an elegant base upon which the floral notes recline, veiled by a powdery mist."
That is what this bottle smells like.
Vintage 40's White Christmas Perfume Bottle by Saravel - SOLD!
This perfume was kept in a drawer since the early 1950s in it's original plain box.
It is 1 fl oz, and as you can see, there has been minimal evaporation, because of how it was stored.
Tthe scent has not been adulterated in ANY way, there really is this much perfume despite the age. It smells uniquely spicey and woodsy.
If you google White Christmas by Saravel, it would give you a better idea of how special it is.
Lagerfeld's Sun Moon Stars Perfume Spray Bottle - 1.7 oz
SOLD!
This is a beautiful bottle, in excellent condition, no chips or nicks. However, the sprayer head for the perfume is missing under the top.
There is 50% remaining perfume, but no way to get it out without a spray head. It would be simple to replace if you had another spray bottle with a similar size.
Helen Starkweather
www.zensoaps.com
Email me
©All Images and text Copyright ZenSoaps 2007-2013. All Rights Reserved. No part of this page may be reproduced without express written permission.